Russian Warships in the Philippines Put Military Ties in the Spotlight
A look at what a recent goodwill visit means within the context of a budding defense relationship.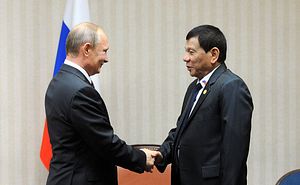 On Thursday, two naval vessels from the Russian Pacific Fleet arrived in Manila for a four-day goodwill visit that will last until April 23. The arrival of the guided-missile cruiser Varyag and the large sea tanker Pechenga, which are on a broader naval mission across the Asia-Pacific, has once again drawn attention to the warming defense ties between Russia and the Philippines under President Rodrigo Duterte.
Warship visits are frequent and routine occurrences for several of the Philippines' other partners, and Russian vessels have docked in Manila a few times before even before Duterte was inaugurated as president last June. But such interactions are scrutinized now more so in the past because Duterte, a self-avowed socialist, has been looking to diversify his country's ties away from Washington and towards other countries, including Beijing and Moscow (See: "The Limits of Duterte's US-China Rebalance"). The would be quite striking if it occurs: the Philippines has not been a traditional defense partner for Russia in the past given its decades-long alliance with the United States as codified by the Mutual Defense Treaty in 1951.
This is the second time that Russian warships have arrived in the Philippines under the Duterte administration, following the visit of Russian anti-submarine ship Admiral Tributs and sea tanker Boris Butoma for a five-day port visit in early January, which Duterte toured (See: "Why Are Russian Warships in the Philippines?"). This visit will feature several Russian interactions with Philippine counterparts, along with a shipboard tour of the Varyag over the weekend and a concert at a park.
The development comes ahead of Duterte's visit to Moscow, which has been scheduled for May 25. The trip is expected to feature discussions on defense, including the potential signing of a defense agreement between the two sides. Given how little Moscow and Manila were doing before and how much both sides have been rhetorically playing up the potential for closer ties, the trip will be watched closely. Ahead of the visit, Russian ambassador to the Philippines Anatolyevich Khovaev said earlier this month that Russia was willing to share its "experience, arms, weapons, and other necessary equipment" as well as training and joint military exercises to help the Philippines cope with threats including terrorism, piracy, and drug trafficking.
That said, as I have emphasized before, it is still early days and there are some clear limits inherent in strengthening ties on the defense side, whether it be interoperability when it comes to arms or costs with respect to certain kinds of equipment (See: "The Limits of Russia-Philippines Military Relations"). That is why, at least thus far, rhetoric has often outpaced reality. Given the momentum in the bilateral defense relationship we have seen thus far though, that could change sooner rather than later.