Essence of American Leadership: The Legacy of Senator John McCain
Insights from Richard Fontaine.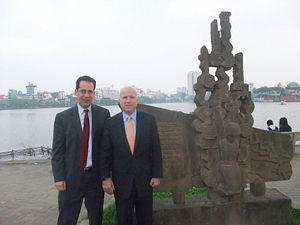 Trans-Pacific View author Mercy Kuo regularly engages subject-matter experts, policy practitioners, and strategic thinkers across the globe for their diverse insights into U.S. Asia policy. This conversation with Richard Fontaine – president of the Center for a New American Security (CNAS) and former foreign policy advisor to U.S. Senator John McCain – is the 155th in "The Trans-Pacific View Insight Series."
In what ways did the late Senator John McCain embody the essence of U.S. leadership?
Senator McCain believed deeply in American power as a force for good in the world. The United States possesses, he believed, unique responsibilities to lead in the world, both with action and by example. And so he supported strong alliances, a robust military, and the promotion of democracy and human rights in places where they are lacking. The Senator also believed, and pointed out repeatedly over the past few years, that U.S. leadership is an imperative – no benign power will simply step up in parts of the world where America chooses to disengage. And he thought that, however strong our country is in arms, it is stronger still in ideals – and we abandon our values not just at the world's peril but our own.
What principles and values characterize Senator McCain's leadership ethos? 
Senator McCain believed in holding firm to a position where necessary and compromising when possible. He routinely crossed party lines, or bucked both Republican and Democratic presidents, in working on a variety of domestic and foreign policy issues. He inspired people – his Senate colleagues and staff and voters, to be sure, but also others who were moved by the power of his exhortations.
He also was very aware of his flaws. Senator McCain was no candidate for sainthood, but unlike many politicians who never admit to errors, or to changing their minds or positions, or to second thoughts, he did. He made mistakes, learned from them, and then went on to make new and different ones. This too, I believe, is an attribute of genuine leadership.
What is Senator McCain's U.S. foreign policy legacy?    
His worldview fused a belief in American exceptionalism, support for U.S. military and economic strength, faith in the virtues of American global leadership and engagement, and a conviction that the promotion of democracy and human rights should represent a key element of our foreign policy. After his passing, there are many who have come to embrace such an approach, even at a time when the prevailing winds in both the Republican and Democratic parties blow toward neo-isolationism. Senator McCain mentored colleagues on both sides of the aisle who will remain on the political scene for decades, and he influenced the thought and character of our approach to national security. Indeed, there are some lasting areas – normalization of ties with Vietnam, intervention in the Balkans, banning the use of torture, the surge in Iraq, support for dissidents around the world – in which Senator McCain's fingerprints will long endure.
What impressed you most about Senator McCain's character and convictions?   
His courage. And by this, I mean not only the bravery he so famously exhibited while imprisoned in Vietnam, but also the political courage necessary to take tough stands on matters of principle. Whether it was his support for the surge in Iraq, his opposition to the use of torture against detainees, or his frequent efforts to assist dissidents and democracy activists abroad, McCain routinely took actions that generated no political gains – or even proved costly. I wish such political courage were more in evidence today.
I was also always impressed by his wicked sense of humor. He loved to tell jokes, to laugh, make sarcastic remarks, and tell stories. He was fun and funny, and he had an adventurous streak. To the end, McCain was possessed by an infectious boy-like wonder that found fascination in everything from the extraordinary to the mundane.
Quick story on the last point: Years ago, he, Senators Hillary Clinton, Lindsey Graham, and others went on a trip to Afghanistan. In between meetings we visited Babur's tomb, which at the time wasn't exactly attracting camera-toting tourists from around the globe. On the grounds was a small shaft lined with bricks, and which McCain found simply extraordinary. He called us all over – "Hillary, come here! Lindsey, come here! You've got to see this! Look down into this hole!" The rest of us were initially nonplussed but, quickly, and against our own inclinations, we started to gather enthusiasm. We gazed down into the dim shaft, marveling, feeling like we were witnessing something amazing – but not really knowing why. Such was the experience of being around John McCain.
How might current and future U.S. foreign policy leaders learn from Senator McCain's service to the United States?       
Put principle above politics. Understand that values and interests are both integral components to our foreign policy. Look for deals when win-win outcomes can be had. Stand up for something important. Serve a cause greater than your own self-interest. And have fun while you are doing it, because the opportunity to lead is extraordinary, and time is always passing.