What Does the Rise of the New Right Mean for China-US Relations?
Politicians like Rand Paul embrace a firm non-intervention stance, which results in a far more moderate approach to China issues.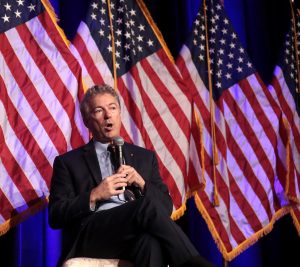 The overdue visit to China by U.S. Secretary of State Antony Blinken may not have yielded a breakthrough in the strained China-U.S. relationship, but it served as a symbolic reminder that dialogue remains a viable option for thawing the frosty ties. Although such an ice-breaking attempt by the Biden administration invited unabashed criticisms from prominent Republican figures, such as the 2024 presidential candidate Nikki Haley, some voices within the GOP offered praises of Blinken's China trip. In the latter group was Republican Senator Rand Paul from Kentucky – an outspoken representative of the rising New Right in American politics.
While Paul has been at the forefront of efforts to investigate the origins of the COVID-19 pandemic, his approach to China as a whole is more nuanced. Paul advocates for engagement with China through diplomatic means rather than adopting a Cold War mentality. Other than his applause for Blinken's China trip, he has raised the loudest objection to the ban of TikTok within the Republican Party. At a time when the GOP as a whole is increasingly adopting a tough approach toward China, Paul swims against the tide, appealing to his fellow Republicans to adopt a more measured and cautious foreign policy instead of ratcheting up the "beating of drums" for war with China.
A streak of seemingly "pro-China" actions may place Paul at odds with the prevailing sentiment within the Republican Party, but he is by no means alone. As a matter of fact, Paul is the epitome of the rise of a new force in U.S. politics: the New Right. Building upon constitutional conservatism, the New Right conservatives uphold a realist foreign policy that is rooted in the U.S. Constitution and prioritizes American citizens. They express reservations about risky endeavors induced by endless promotion of liberal values and instead endorse caution and prudence in international affairs. This shift reflects a transition from Ronald Reagan's "peace through strength" doctrine to Donald Trump's "America first," signaling a reevaluation of what constitutes the U.S. national interest and a return to prioritizing domestic concerns.
The principles of the New Right undergird Paul's consistent emphasis on the importance of maintaining a peaceful relationship with China. Even China hawks within the New Right are restructuring their anti-China narratives by highlighting the significance of refocusing on U.S. interests to effectively compete with China. For example, Paul's colleague, Senator Mike Lee (R-UT), a self-identified constitutional realist, asserted, "The way we are gonna beat China is by being our best selves." Whatever their personal political agendas may be, such attempts to steer clear of a head-on confrontation with China are becoming a common denominator within the New Right.
Beyond Capitol Hill, the non-interventionism advocated by the New Right is also gaining traction. Former national security official Michael Anton has warned that going to war with China over Taiwan does not align with the United States' interest. Public intellectual Sohrab Ahmari lambasted what he saw as "a mindless China hawkishness" among GOP foreign-policy elites. Additionally, Dan Caldwell, vice president of the Center for Renewing America, a conservative think tank, rejected the adoption of a Cold War mindset at home as a means to counter China, emphasizing the potential negative ramifications of such a practice.
Another key indicator of the New Right's approach can be observed through their stance on the Ukraine war – which also has indirect implications for their stance on China. Paul, joined by 10 other Republicans, opposed the Additional Ukraine Supplemental Appropriations Act, 2022, calling the bill "a cause … which the Constitution does not sanction or approve of" and warning that the U.S. national security is threatened "not by Russia's war on Ukraine but by Congress's war on the American taxpayer." A similar situation was found on the House floor: all 57 no votes on the bill came from the Republicans.
The non-interventionist sentiment eventually extended beyond the New Right and was further evident in the vote on the Continuing Appropriations and Ukraine Supplemental Appropriations Act, 2023, where 25 out of 50 Republican senators and 201 out of 212 Republican representatives voted against it.
Some may argue that the New Right's skepticism about aiding Ukraine may not necessarily apply to China's case due to the systemic nature of China-U.S. tensions and the entrenched anti-China sentiment in U.S. politics. However, such an argument overlooks a fundamental difference: Ukraine is currently engaged in a war with Russia, whereas there has been no direct military conflict between China, the United States, or Taiwan. In Ukraine's case, therefore, the United States, as the leader of the liberal international order, has to constantly cash in its vocal support for Ukraine by providing the war-torn country with material and pecuniary aid without commensurate rewards. These commitments have increasingly come under scrutiny by Republicans, the New Right in particular, who question the sustainability of such investments and perceive them as a resource-draining blackhole.
In contrast, the efforts to adopt a tougher China policy, whether conducted in a performative or substantive way, yield more tangible results than aiding Ukraine. Internationally, it strengthens deterrence against China's aggression against Taiwan and maintains U.S. influence in the Indo-Pacific, and domestically, it garners support from a growing number of China hawks among the electorate. Any rational politician would know it is more rewarding to play the "China card" – as long as the United States is not involved in any hot wars with China.
The main reason that a majority of Republicans, as well as many Democrats, have been able to benefit from their hawkish stance against China thus far is the resilience of the economic ties between the two nations. As surprising as it may sound, China-U.S. trade has reached a record high despite the ongoing bickering and power struggles. The robust economic interdependence acts as a safety net, cushioning the negative impact of vocal sparring between the two countries, incentivizing more U.S. politicians to take advantage of anti-China grandstanding without taking too much responsibility.
However, if a real armed conflict were to erupt in the Taiwan Strait and the United States found itself (almost inevitably) involved, those politicians would be compelled to carefully evaluate the costs and benefits of engaging in such a war with an uncertain duration. It is in this scenario that the non-interventionist approach to the China issue, already championed by the New Right, would garner serious consideration from foreign policy elites, Republicans and Democrats alike.