Girl and the Nation: Central Asia's Gendered Quest for National Identity
The violent response to Zere Asylbek kyzy' art reflects gendered expectations about women embodying the nation in Central Asia.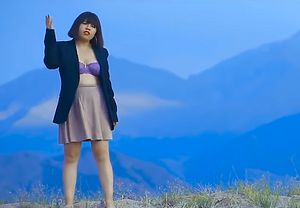 The tragedy of Burulai Turdalieva's murder was a "spark to action" for 19-year old artist Zere Asylbek kyzy, whose song "Kyz" (Girl) has a simple message: respect women. The music video for "Kyz" went viral recently, amassing over 300,000 views on YouTube and sparking a flurry of hot takes in English-, Russian-, and Kyrgyz-language media. The song rings with hope for a future where "nobody will tell me 'Don't wear that,' 'Don't do that.'"
Backlash to the music video — in which Asylbek kyzy is dressed in a purple bra, skirt, and sports coat while women in white and black cloaks jump into a lake — has been extreme. Comments were disabled on the video's YouTube page, an appropriate response given the violent threats Asylbek kyzy has received. "If you don't remove the video and don't apologize to the Kyrgyz people, we will kill you soon," Instagram user @bespredel_kg wrote Asylbek kyzy in a private message.
It would be easy to frame Zere Asylbek kyzy's song, video, and the response to her art as a women's rights issue. But @bespredel_kg isn't reacting to the song's lyrics or message, and the broader controversy is not entirely about Asylbek kyzy's freedom of action. Asylbek kyzy made a claim for women to be seen as equals with her song, but the way she looks — specifically, how she is dressed — does not conform to normative expectations that women embody the nation.
Indeed, responsibility for revival and display of national identity is heavily gendered in Central Asia. Women are seen as guardians of tradition who anchor the national community in a precarious economic and social context; sartorial choices are a huge factor in that responsibility.
Earlier this month, the "Qazaq Qyzy" (Kazakh Girl) Institute organized a festival in Astana where young girls could learn just how fashionable national traditions can be. Qaraqat Abden, the Institute's head, explained the importance of young girls proudly wearing their hair in traditional braids every day, not just for holidays like Nooruz. Events like this "have a positive influence on girls and enables the protection of national identity and the rich, beautiful culture of the Kazakh people," Abden said.
Tajikistan's government has taken a more active role in enforcing women's position as anchors of national identity. In April 2018, the government published a 367-page "Guidebook To Recommended Outfits in Tajikistan" offering sartorial guidance exclusively for women. RFE/RL's video about a 2017 law urging all citizens — but especially women — to wear traditional clothing features women in flashy kurta and shalvar, sporting headscarves tied the "Tajik way" around the back of the neck rather than under the chin.
While a young woman earnestly tells the interviewer, "It's a very good law, because all countries and governments have their own national dress. It's actually harmful for a country not to have its own national dress, because it helps identify the nation to the world," men in jeans, t-shirts, and western-style suits wander in and out of the frame. Laws discouraging men from displaying religiosity also exist in Central Asia, but they don't get as much attention and are more narrowly targeted; regulations regarding men's appearance are framed as preventing radicalization, whereas rules governing women's appearance and behavior — both written and unwritten — are about preventing the contamination of national culture by "foreign" influences.
In July 2016, a handful of billboards appeared overnight in Bishkek; the banners featured contrasting images of Kyrgyz women wearing elecheks, a turban-like hat worn by older women, next to a crowd of women in niqab, with everything but their eyes covered in black fabric. Though the government did not sponsor the project, then-President Almazbek Atambayev offered funding to install similar billboards across Kyrgyzstan. In Atambayev's view, the billboards — which include the text "Kairan elim, kaida baratabyz?!" (My dear people, where are we headed?!) — are necessary for "preserving Kyrgyz culture."  
A week later, copycat billboards showed up in Bishkek, this time posing a photo of Kyrgyz women in traditional dresses and long coats against pictures of two young women in shorts and a skirt. The same alarmist message, "Kairan elim, kaida baratabyz?!" graced the bottom of the billboard. Taken together, these billboards aren't about avoiding coming across as too Muslim, too pious, but too "foreign." No "Kairan elim, kaida baratabyz?!" billboard went up with images of men in kalpaks and tracksuits because in Kyrgyzstan and Central Asia more broadly, it's women who shoulder the responsibility for protecting and displaying national identity.
Of course, this pressure is not unique to Central Asia, but regional governments' role in enforcing gendered norms and cultivating the image of how proper (female) citizens should look stands out. Zere Asylbek kyzy's song and music video provide a chance to interrogate and push back on the expectation that women should always embody the nation.