India's DRDO Test Fires Indigenous Man Portable Anti-Tank Guided Missile
A domestically designed and built man portable anti-tank guided missile was test fired for the first time on September 15.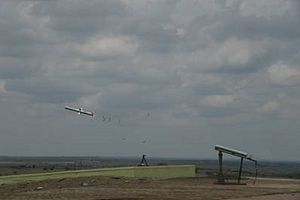 India's Defense Research and Development Organization (DRDO) conducted the first successful test firing of a new indigenously designed and developed man portable anti-tank guided missile (MPATGM) at the Ahmednagar test range in the western Indian state of Maharashtra on September 15, the Indian Ministry of Defense (MOD) said in a statement.
All test objectives were met, according to DRDO. The first successful test firing was followed by another MPATGM test launch on September 16, which also took place at the Ahmednagar test range. "The two missions on 15 and 16 September 2018 have been successfully flight tested for different ranges including the maximum range capability," the MOD said in a September 16 statement.
The MPATGM is a third-generation anti-tank guided missile (ATGM), which has been under development by DRDO in partnership with Indian defense contractor VEM Technologies Ltd. since 2015. Fitted with a high-explosive anti-tank (HEAT) warhead, the MPATGM reportedly boasts a top attack capability and has a maximum engagement range of about 2.5 kilometers.
DRDO has promised the Indian Army to hand over the first MPATGM prototype by the end of 2018 for user trials. Mass production of the missile is expected to begin in 2021. The Indian government scrapped a $500 million deal with Rafael for 321 Spike ATGM systems and 8,356 missiles in favor of the MPATGM system in December 2017. (The Indian MoD selected the Spike ATGM over the U.S.-made FGM-148 Javelin ATGM system in October 2014.)
Nonetheless, the Indian Army remains deeply skeptical of the indigenous MPATGM and does not believe that it will be meet its operational requirements. The service is also concerned about delays in the induction of the new weapon system. Consequently, the Indian Army has been pushing for the acquisition of man portable ATGMs from abroad, despite heavy opposition from the DRDO. As I explained earlier this year:
[T]he Indian Army claims that it lacks 68,000 ATGMs of various types and around 850 launchers and is 60 percent short of its authorized holdings. Furthermore, its existing stockpile largely consists of obsolete second-generation Milan-2T and Konkurs anti-tank missiles.

The Indian Army is looking for stopgap measures to quickly address this capability gap by inducting new ATGM systems as quickly as possible. (…)  The service is reportedly pushing for a fast-track procurement of 2,500 third-generation shoulder-fired ATGMs and 96 launchers through a government-government contract.
The Indian Army intends to equip all of its infantry and mechanized units with a third-generation ATGM by the early 2020s. The DRDO has also been working on the third-generation ATGM Nag, fired from the Nag Missile Carrier (NAMICA), an Indian license-produced variant of the Soviet-era BMP-II armored infantry fighting vehicle. However, the new missile has not performed well during recent test firings.