Iran's Careful Approach to China's Uyghur Crackdown
Iran's close ties to China leave Tehran vulnerable to criticism as Beijing cracks down on Muslim minority groups.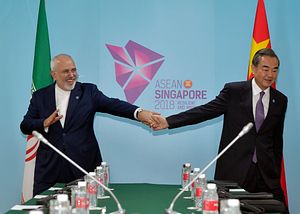 On September 14, U.S. Secretary of State Mike Pompeo posted a tweet that criticized Iran's Supreme Leader Ayatollah Ali Khamenei for his refusal to condemn the Chinese government's human rights abuses against the Uyghur minority. Pompeo argued that Iran's silent reaction to China's detention of hundreds of thousands of Muslims undermined the credibility of Khamenei's claims of being a leadership figure in the Islamic world, and underscored the Chinese energy market's leverage over Iranian foreign policy.
Pompeo's strident criticisms of Khamenei's handling of the Uyghur crisis have received mixed reactions within Iran and among the Iranian-American community. Critics of Iranian foreign policy share Pompeo's assessment of Tehran's muted response to China's repression of the Uyghurs. Alireza Nader, the CEO of Washington DC-based NRG Consulting firm and a former international policy analyst at RAND Corporation, told The Diplomat that Iran's economic dependence on China explains Khamenei's reluctance to speak out on the Uyghur issue. From Nader's perspective, the limited strategic importance of Xinjiang for Iran and the Iranian public's inurement to Khamenei's double standards have caused Tehran to remain silent on the Uyghur crisis.
This assessment has been rejected by many Iranian policy analysts, who are frustrated with the Trump administration's maximum pressure campaign against Iran. Mojtaba Mousavi, the founder of Tehran-based publication Iran's View and contributor to state media publication Jam-e-Jam Network, told The Diplomat that Pompeo's comments are misleading. Mousavi noted that the Iranian Foreign Ministry has periodically expressed concern about China's treatment of its Muslim minority and Russia's policy in Chechnya, even though Iran maintains close relations with Moscow and Beijing. From Mousavi's perspective, the U.S. Department of State's criticism of Iran's handling of the Uyghur crisis reveals the influence of opposition groups, like the People's Mujahedin of Iran (MEK), on U.S. foreign policy decision-making.
Although the issue of what constitutes an adequate response from Iran to the Uyghur crisis is a contentious one, it is important to emphasize that Iran's cautious reaction to China's establishment of internment camps for the Uyghurs aligns closely with the Middle Eastern consensus. Even though Saudi Arabia has condemned human rights abuses against Muslims in other Asia-Pacific countries, like Myanmar's repression of its Rohingya minority, Riyadh has been reluctant to express public discontent with China's treatment of the Uyghurs. The Middle East Eye recently reported that Arab governments, like Egypt and Saudi Arabia, have deported displaced Uyghurs back to China. Similarly, Turkey has not reacted strongly to the plight of the Uyghurs in China, and previously caused controversy amongst pro-Uyghur activists by blocking media outlets critical of China's handling of the Uyghur situation.
In addition, Iran's handling of the Uyghur crisis corresponds directly with its broader worldview regarding international human rights policy. In a July 2009 statement to the United Nations General Assembly on the Responsibility to Protect (R2P), Iranian Ambassador to the United Nations Eshagh al-Habib emphasized the importance of aligning with the UN charter principles of sovereignty and noninterference in the internal affairs of other nations. While Iran's interventions in Iraq and Syria have arguably violated these principles, Tehran has opposed selective interpretations of R2P in light of the international community's refusal to assist Iran when it was attacked by Saddam Hussein's chemical weapons arsenal during the 1980-88 Iran-Iraq War.
In spite of the consistency between Iran's circumspect attitude toward the Uyghur crisis and its past foreign policy decision-making, the Iranian government's handling of Chinese human rights abuses in Xinjiang has captured the attention of domestic opposition movements. On Twitter, supporters of the campaign to free dissident spiritualist Mohammad Ali Taheri used Pompeo's statement as proof of Khamenei's neglect of Iran's responsibilities as a leader within the Islamic community of nations. The mobilization of opposition groups against Iran's policy toward China's Uyghur minority represents a major redirection of focus, as moral criticisms of Iranian foreign policy have been largely confined to the burgeoning crises in Basra and Idlib.
Although the Iranian government's control over information flows will likely limit the resonance of this issue for opposition movements, the precedent of the 2009 anti-government discord overlapping with the Uyghur issue is concerning for Iranian policymakers. During the 2009 election protests, reformist clerics led a parallel campaign against China's treatment of the Uyghur minority and Iran's silence in the face of these abuses. One such cleric, Ayatollah Youssef Sanei, challenged Chinese policy by asking how China could violently repress its Muslim minority and simultaneously seek to dominate the markets of Muslim-majority countries. This criticism was reiterated by numerous members of the Iranian Parliament and the Tehran City Council, and added further fuel to the atmosphere of discontent surrounding the 2009 Green Movement protests.
As Iranian President Hassan Rouhani has been targeted by anti-government unrest since December 2017 and is struggling to assert his authority over the clerical establishment in Iran, Pompeo's comments on the Uyghur situation could convince Iran to release a carefully worded statement of concern on the humanitarian crisis in Xinjiang. As expressions of discontent with Chinese conduct toward the Uyghur community have previously not materially affected Tehran's relationship with China, Iran will likely be able to appease liberals at home without risking a cutback of financial investment from its leading trade partner.
Although Pompeo's comments on the Uyghur issue have attracted controversy in Iran, they appeal to the deep-seated perception among critics of the Iranian government that Khamenei has not lived up to his purported position as a guardian of the Islamic community. While Iran's freedom of action on the plight of the Uyghurs is limited due to the importance of the Beijing-Tehran alliance, the Iranian government could be forced to take a more assertive position on this humanitarian crisis in the days and weeks to come.
Samuel Ramani is a doctoral candidate in International Relations at St. Antony's College, University of Oxford. He is also a contributor to the Washington Post, and the National Interest. He can be followed on Twitter at samramani2.