Sheena Greitens on Understanding China's Policies in Xinjiang
How "war on terror" rhetoric contributed to the repression of Uyghurs and other Muslim minorities in China.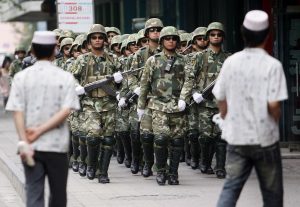 In a recent article for International Security, a peer-reviewed journal, Sheena Greitens, Myunghee Lee, and Emir Yazici examine the change of Chinese state policy in Xinjiang that led to the internment of 1 to 3 million people in the region. Greitens spoke to The Diplomat's Ankit Panda about their findings, the impact of "war on terror" rhetoric, and why it's important to engage with the arguments put forth by the Chinese government – namely, counterterrorism – to explain the policies that have draw widespread international criticism.
Tell our readers a little bit about the core argument of your article. 
Over the course of 2017–18, the Chinese Communist Party (CCP) crackdown on Uyghur and other Muslim minorities in the Xinjiang Uyghur Autonomous Region (XUAR) generated increasing international scrutiny.  A reported 1 to 3 million people have been detained in a large network of recently-constructed camps, where they must undergo forced re-education and political indoctrination. PRC authorities have also put increasing pressure on Uyghur diaspora networks, increasing surveillance and pressure to repatriate to China.
Most explanations for what's happened focus on domestic factors in Xinjiang itself: political violence and contention involving China's Uyghur population; the CCP's turn toward a more assimilationist "second-generation" minority policy, and the leadership of Xinjiang Uyghur Autonomous Region party secretary Chen Quanguo. These factors are important for understanding the overall security buildup and repression in Xinjiang. We believe that to explain the strategy shift that occurred in early 2017, however, there's one additional factor that should be considered: the CCP's belief that they had to prevent the threat of terrorism from diffusing back into China from outside the country.
That belief came from a couple of sources. First, emerging contacts between Uyghurs and Islamic militant organizations in Southeast Asia and the Middle East in 2014-2016 drew increasing attention from the CCP.  Second, following Xi Jinping's promulgation of the "comprehensive security" framework in mid-2014, the CCP concluded that large swathes of the population were more vulnerable to jihadist infiltration than they'd previously thought. They compared it to a virus: even people who showed no sign of ill health could be "infected" by an extremist virus unless they were "inoculated." So targeting diaspora networks aimed to cut off a likely vector by which the CCP believed terrorist threats could re-enter China, while detention and re-education were supposed to "inoculate" the population from "infection."