Japan Misidentifies Russian Su-35S Fighter Jet Approaching Japanese Airspace
Japan's Ministry of Defense misidentified a Su-35S Russian fighter jet intercepted by Japanese aircraft on September 19.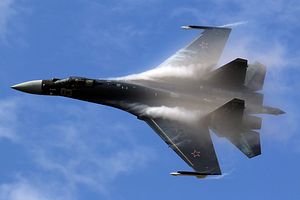 In a somewhat unusual step, Japan's Ministry of Defense (MoD) recently revised a public report summarizing the intercept of three Russian Air Force aircraft by Japan Air Self Defense Force (JASDF) fighter jets in the Sea of Japan on September 19. According to the MoD, the JASDF misidentified a Sukhoi Su-35S (Flanker-E+) multirole fighter jet as a Sukhoi Su-27 air superiority fighter. The original identification was corrected by the MoD on September 20. During its flight over international waters, the Su-35S was accompanied by a Sukhoi Su-24 nuclear-capable strike attack aircraft and one other unidentified Russian aircraft.
What makes the correction notable is that this is the first time that JASDF has publicly announced that it scrambled fighter jets to intercept one of Russia's most advanced fighter jets, although Su-35S fighters have reportedly escorted Russian bombers conducting aerial patrols in close proximity to Japanese airspace a number of times before. Japan's MoD has been paying particularly close attention to the appearance of the Russian Su-35S in East Asia in recent months. In March 2018, the Russian Air Force temporarily deployed two Su-35S aircraft to a base on Iturup (Etorofu in Japanese) — the largest and northernmost island in the southern Kurils — for the first time, which caused the Japanese government to ask Russia to scale down its military presence on the disputed territories.
Sukhoi Su-27SM3 and Su-35S fighter aircraft bear close resemblance to one another–the latter is an improved derivative of the former. Consequently, confusing the two aircraft can be quite easy for pilots. Indeed, there is reason to believe that a number of times when the MoD listed unidentified fighter jets in its public reports it was because of difficulties distinguishing the two aircraft variants. Russian military aviation has been progressively stepping up its military presence in East Asia over the last two years, as I reported last month:
According to the Japanese MoD, the JASDF dispatched interceptor aircraft 904 times in response to unidentified aircraft approaching Japanese airspace during the last fiscal year that ended in March. Out of the total of 904, 500 scrambles occurred in response to Chinese military aircraft and 390 were prompted by Russian military planes. This marks a decline of 41 percent for Chinese military aircraft, but a 29 percent increase of intercepts of Russian planes.
The JASDF last scrambled fighter jets to intercept two nuclear-capable Russian Tupolev Tu-95MS strategic bombers and escort aircraft in July. The Tu-95MS is an updated variant of the older Tu-95, a Soviet-era four-engine, long-range, turboprop, strategic bomber that can carry stand-off nuclear-capable cruise missiles. Japan has been facing a shortage of fighter aircraft over the past years as China and Russia have been simultaneously increasing their military presence in the region. The shortage in fighter aircraft has become more acute in recent years. In 2016, the JASDF also doubled the number of fighters dispatched for each intercept of foreign military aircraft approaching Japanese airspace from two to four.