Japan's Latest Deadly Earthquake Buries Scores Alive
Just days after "National Disaster Prevention Day," a powerful earthquake jolted Japan's northern island of Hokkaido.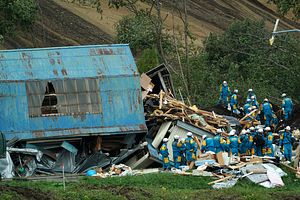 Shortly after 3 a.m. on Thursday, residents in Japan's main north island of Hokkaido were thrown awake by a magnitude 6.7 earthquake that toppled homes, caved in roads, and caused landslides that buried people alive. At least 18 people have been killed and 300 people sustained injuries. With aftershocks still being felt, 10,000 people are being forced to spend the night in evacuation shelters while rescue teams and search dogs race to find quake survivors beneath mud and debris.
Hokkaido's whole population of 5.4 million was left without water and power almost immediately. State officials say limited power supplies could last for up to a week as Hokkaido Electric Power Co. nuclear reactors are being cooled by emergency power supplies.
In recent months, Japan has suffered a string of deadly natural disasters. Just days ago the most violent storm in a quarter century, Typhoon Jebi, wreaked havoc, killing 10 people and severing the only bridge connecting the artificial island of Kansai International Airport near Osaka to the mainland, stranding 3,000 passengers without power.
Amid the string of disasters, Japan's annual "National Disaster Prevention Day" took on new significance. Held each year on September 1, the day commemorates the 1923 Great Kanto earthquake, which claimed the lives of 100,000 people. But it also serves as a nationwide day of evacuation training against a mixture of hypothetical natural disasters. In recent years that has included a focus on preparing for a magnitude 9.1 Nankai Trough mega-quake, expected to strike from the Pacific Ocean within the next 30 years.
In Wakayama Prefecture — close to the anticipated epicenter of the Nankai Trough mega quake — locals in the coastal town of Kushimoto learnt how to handle fire extinguishers and defibrillators, and attended workshops on how to fix broken furniture.
In the rehearsal of an emergency meeting between Japanese Prime Minister Shinzo Abe and cabinet members, Abe stressed that fine-tuning disaster prevention measures intend to maximize human life by learning how to prioritize safety procedures.
By sheer coincidence, over the weekend 160,000 residents in Hokkaido voluntarily practiced crisis management drills against a magnitude 8 mega-quake off Hokkaido stemming from the Kuril Trench in the Pacific Ocean. For the past seven years, kindergartens, schools, and office have revised "shakeout" drills learning how to drop for cover and prevent head injuries during an earthquake. And during disaster prevention week, between August 30 and September 5, many of the 25,000 Self-Defense Force personnel, firefighters, and police that would be dispatched to Hokkaido were fortunate to brush up on their rescue skills.
Although residents who took part in timely anti-disaster drills had freshly rehearsed routes to their closest evacuation centers, along with procedures for signaling homes with injured people inside, the grim reality and unpredictable level of devastation of the earthquake has left many in shock.