Taliban Announce Death of Jalaluddin Haqqani, Founder of the Haqqani Network
The Haqqani Network's founder is dead.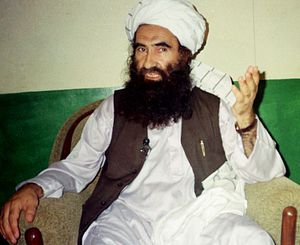 Jalaluddin Haqqani, the founder of the Afghanistan and Pakistan-based Haqqani Network, is dead, the Taliban announced on Monday. Taliban spokesman Zabihullah Mujahid announced Haqqani's death — the first time the reclusive Haqqani Network founder's death, which has often been rumored, was officially confirmed. Pakistani journalist Hamid Mir noted on Twitter that "family sources" had also confirmed his death.
"Minister of Frontiers during the reign of Islamic Emirate and member of the Leadership Council, the esteemed Al-Haj Mawlawi Jalaluddin Haqqani has passed away after a long battle with illness," the Taliban statement, released by Mujahid, noted.
The Taliban's statement announcing Haqqani's death underlined his role in uniting in the Taliban. "The actions and exploits of Haqqani Sahib and his untiring efforts to keep the Islamic Emirate united in the face of American invasion are golden chapters of history which future Islamic generations shall forever be proud of," the statement said.
The Taliban's announcement gave no particular details about when Haqqani died, but he had known to be ill and largely uninvolved in recent years in directing the network's operations, which had been overtaken by his son and Taliban deputy emir Sirajuddin Haqqani.
Given Sirajuddin's role, his father's death will operationally mean little for the Haqqani Network. Instead, the group may feel it necessary to stage a major attack against U.S. interests in the region to demonstrate its vitality even as its founder died.
Following the Soviet Union's invasion of Afghanistan, the United States had found an ally in Jalaluddin Haqqani, who quickly emerged as an important node in the anti-Soviet Afghan resistance. Today, the U.S. government considers the Haqqani Network, the group that Jalaluddin founded, a terrorist network. Thirteen leaders involved with the network are designated as global terrorists.
Haqqani's main tactical legacy in Afghanistan is ignominious: He is largely credited with introducing suicide bombings as a tactic to the Afghanistan-Pakistan region. Suicide attacks have become a mainstay in tactics employed by the Taliban and its many offshoots. The Islamic State, meanwhile, has also adopted the tactic in Afghanistan.
Since 2012, the Haqqani Network has emerged as a major point of focus for the United States in the Afghanistan-Pakistan region though the group had worked since the U.S. invasion of Afghanistan in 2001 to counter the United States. In particular, Washington has demanded that Pakistan take stronger action against the group, which it maintains enjoys safe haven in Pakistani territory.
In 2015, Pakistan moved to designate the Haqqani Network a banned group under its National Action Plan counterterrorism scheme. The United Kingdom and Canada also consider the Haqqani Network a terrorist group.