The Future of US-Indonesia Defense Ties Under Trump
A closer look at the opportunities and challenges for security ties in the coming years.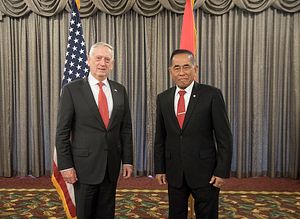 Last week, Indonesian Defense Minister Ryamizard Ryacudu was in Washington, D.C., where he met with U.S. Defense Secretary Jim Mattis. While the engagement itself was just the latest in a series of interactions by the two sides, it spotlighted the opportunities and challenges that lie ahead for the defense side of the relationship.
As I have detailed before in these pages, the United States and Indonesia have a defense relationship that has included a range of interactions including visits, exchanges, and regular exercises, with previous major restrictions in place in the 1990s largely lifted under the George W. Bush administration. U.S. policymakers across administrations have recognized that Indonesia – the world's largest archipelagic state and biggest Muslim-majority country – is a significant actor in Southeast Asia and an important partner in addressing challenges ranging from maritime security to Islamic extremism, with ties gradually upgraded to a level of a strategic partnership during the Barack Obama years.
The Trump administration, to its credit, quickly prioritized Indonesia as being one of the key countries to engage in the Asia-Pacific on the defense side once it took office. Despite uncertainties that remain among Indonesian policymakers about the direction of overall U.S. domestic and foreign policy, engagement has been ongoing and the defense aspect of ties is no exception. U.S. Defense Secretary and Indonesian Defense Minister Ryamizard Ryacudu had met four times officially in two years and both have emphasized the warm nature of their personal relationship.
Last week, Ryacudu was in Washington, D.C., with other Indonesian defense officials for what was his fifth official meeting with Mattis. An official Pentagon statement released following the meeting noted that the two sides addressed a wide range of defense issues in the bilateral relationship as well as wider regional and global issues, from strengthening maritime domain awareness to transnational crimes such as piracy and illegal and unregulated fishing.
That itself came as little surprise: such issues have come up in previous bilateral meetings as well, and are priorities that Indonesia is itself advancing under President Joko "Jokowi" Widodo, who is up for reelection next year. Those priorities are rooted in Indonesia's longer-term efforts to modernize its military at home as well as confronting challenges abroad, which range from protecting its maritime resources to resolving outstanding disputes with states – including with China in the South China Sea (See: "Indonesia's South China Sea Policy: A Delicate Equilibrium").
While such meetings offer the opportunity for both sides to review collaboration across a range of aspects, including exchanges, educational opportunities, and intelligence sharing, several Indonesian media accounts focused on the defense industry aspect of ties, noting that Ryacudu had reaffirmed the fact that Jakarta would look to buy defense equipment from the United States including C-130 Hercules transport aircraft. In reality, though this aspect of ties rarely fails to get a mention in such meetings, the deals themselves take quite a while to materialize.
But as is often the case with such meetings, the interaction also brought up more specific issues of interest to both sides and opportunities and challenges in the defense relationship. Chief among the areas of focus was terrorism, which is not surprising given the threat it poses to Indonesia, as evidenced by attacks that hit Surabaya earlier this year. Ryacudu himself has been vocal about the seriousness of the challenge, which he characterized to participants at the Shangri-La Dialogue in Singapore in June as a "third-generation" threat following the post-Al-Qaeda generation and the post-Islamic State (or Daesh) generation (See: "ASEAN Terrorism Threat in Focus at 2018 Shangri-La Dialogue").
Ryacudu noted in his remarks at the Pentagon that countries needed to step up counterterrorism cooperation in a concrete manner beyond rhetoric. He also made reference to trilateral collaboration in the Sulu Sea underway between Indonesia, Malaysia, and the Philippines, reinforcing the need to further operationalize cooperation on land following maritime and aerial patrols. As I have noted before, major powers including the United States have expressed interest in assisting with the development of such intraregional initiatives.
On the challenges side of the equation, the issue of how U.S. Russia-related sanctions would affect Indonesia was a thread that was picked up on by Indonesian media as well, with a note that, for now, Indonesia would be included in a list of key U.S. strategic partners, such as India and Vietnam, that would not be sanctioned for procuring weapons from Russia under the Countering America's Adversaries Through Sanctions Act (CAATSA).
The temporary reprieve has for the time being managed what has proved to be a thorny and tricky issue for U.S. policymakers to navigate with Asian states on the defense side. Yet while the issue may have been managed for now, CAATSA has served as an example that highlights broader worries among U.S. strategic partners about how the Trump administration's tougher approach towards American adversaries and challengers could impact their own ties with those states as part of their foreign policy outlook of cultivating a diverse array of alignments.
Beyond the bilateral relationship, Washington's operationalization of its Free and Open Indo-Pacific (FOIP) strategy also came up between the two sides amid the series of regional and global issues. The official statement on the visit by the Indonesian defense ministry noted that Ryacudu had agreed on the importance of the concept, but had also emphasized the need to ensure that it was inclusive and well-rounded.
The ambivalent tone that characterized the official statement on Ryacudu's response comes as no surprise. As I have noted previously in these pages, Indonesia has been cautious about its reaction to FOIP thus far and has adopted a mixed approach towards it, nudging Washington towards a vision that is relatively more complementary to Indonesia's national interests – with greater attention to the economic side of the equation and deference to ASEAN centrality – while also emphasizing its own Indo-Pacific vision as a key regional player (See: "Trump's Indo-Pacific Strategy Challenge").
Beyond FOIP itself, Indonesia's reaction speaks to a broader balance it seeks between engaging outside powers which have a role in the region while also ensuring that it preserves its own leadership role and that it is not eclipsed by others including Beijing or Washington. How exactly this factors into the U.S.-Indonesia defense relationship will continue to be among the factors that will determine the broader trajectory of ties in the coming years.