US Flies 2 B-52H Bombers Over East and South China Seas
Beijing has labelled the recent mission by U.S. Air Force B-52H bombers as "provocative."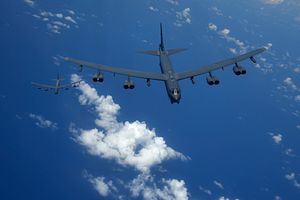 Two U.S. Air Force nuclear-capable B-52H Stratofortress bombers flew from Anderson Air Force Base in the Western Pacific to a U.S. military base on Diego Garcia, an atoll in the central Indian Ocean, on September 24.
The B-52Hs transited the East and South China Seas during what a U.S. Department of Defense (DoD) spokesperson has called a "regularly scheduled operations designed to enhance our interoperability with our partners and allies in the region." The two bombers were reportedly accompanied by two fighter jets of the Japan Air Self Defense Force (JASDF) for a part of the flight and refueled mid-air by a Boeing KC-135 Stratotanker.
The bomber mission over the South China Sea, a strategic waterway claimed by China, has drawn the ire of Beijing. Chinese Ministry of Defense (MoD) spokesman Ren Guoqiang criticized it as "provocative," the South China Morning Post reports. "As for the provocative action taken by the U.S. military aircraft, we are firmly against it and we will take all necessary means to safeguard our rights and interests," Ren said.
"If it was 20 years ago and they have not militarized those features there, it would have just been another bomber on its way to Diego Garcia or whatever," U.S. Defense Secretary James Mattis told reporters this week in response to Chinese criticism. "So there's nothing out of the ordinary about it, nor about our ships sailing through there."
U.S. Air Force B-52Hs have repeatedly transited the airspace over the East and South China Seas in recent months. The service redeployed the B-52H to Guam as part of the U.S. Indo-Pacific Command's continuous bomber presence mission in the Asia-Pacific region in January. B-52Hs last deployed to Guam in July 2016. The B-52Hs took over responsibility from the B-1B Lancer heavy strategic bombers of the USAF's 9th Expeditionary Bomb Squadron (EBS) of the 7th Bomb Wing, which deployed to the region in February 2017.
The U.S. Air Force currently has total of 58 B-52H long-range, heavy strategic bombers in service. The aircraft are capable of flying at high subsonic speeds at altitudes up to 50,000 feet (15,166.6 meters) and can carry nuclear cruise missiles and a conventional payload of up to 70,000 pounds (31,500 kilograms) "with worldwide precision navigation capability," according to a statement by the service.
"The denuclearized variant of the B-52H carries JASSM [AGM-158B Joint Air-to-Surface Standoff Missile] and JASSM-ER [Extended-Range] long-range, radar-evading cruise missiles, whereas nuclear-capable bombers carry the nuclear-tipped AGM-86 air-launched cruise missile," I explained previously. Under the 2010 New Strategic Arms Reduction Treaty (START), 41 B-52Hs were denuclearized. It is unclear how many of the B-52H bombers currently deployed on Guam are of the denuclearized variant.