What's in Thailand's New Military Helicopter Order?
Bangkok is looking to make further inroads in one of the key priorities in its military modernization.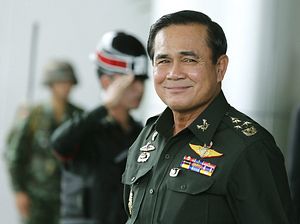 Last week, Airbus Helicopters confirmed that it had received a new order for four helicopters from Thailand. Though this was just the latest transaction between the two sides, the development nonetheless once again put the focus on what has been a previously articulated for the Thai military within the country's broader military modernization.
Though there a range of priorities for Thailand in its country's ongoing defense modernization, one of those has been replacing its aging fleet of combat helicopters used by the Royal Thai Air Force (RTAF). The RTAF has been looking to retire its 18 aging UH-1H "Huey" helicopters which have been in service for about a half century.
Those plans have continued on under the current junta government led by Prayut Chan-o-cha, which took power in a coup back in May 2014. Thai officials have confirmed previously that the Royal Thai Army (RTA) plans to acquire new helicopters, with plans to set up a procurement committee to detail specifics of the requirement and then seeking funding from the government, and a range of options being considered, including helicopters from the United States and China.
One of the ways Thailand has looked to fulfill those needs has been through the purchase of the H22M (formerly EC725) helicopters from Airbus Helicopters, following several of its fellow Southeast Asian neighbors including Indonesia and Malaysia. The H22M is a 11-ton, twin-engine helicopter, featuring high-performance navigation and mission systems – including a unique digital four-axis autopilot – and boasting a maximum speed of 201 miles per hour, a range of 533 miles and a service ceiling of nearly 20,000 feet.
The initial order from Thailand was for four helicopters in 2012, which it then subsequently received in 2015. It then placed two separate subsequent orders for two helicopters each, in 2014 and 2016 respectively, with the 2014 order was fulfilled by 2016, and the 2016 order expected to be received by the end of the year. The Thai military has previously said that the helicopters are meant primarily for purposes such as search and rescue and troop transportation.
On September 20, Airbus announced that Thailand had ordered four more H22M multirole helicopters. These helicopters are expected to be received by 2021, and would take the total number of helicopters Thailand has ordered from Airbus to 12. According to Airbus, the latest contract covers other services including on-site technical support and continuing airworthiness management organization services supported by Airbus' Thailand team.