Another First for Vietnam-Brunei Naval Ties
The visit of a Brunei Navy vessel to Danang marked yet another first for that aspect of the bilateral relationship.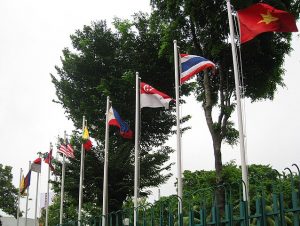 This week, Vietnam received the first-ever visit of a Brunei naval vessel to Danang. Though the interaction was just one of several within the ongoing defense relationship between the two Southeast Asian countries, it shed light on the collaboration underway in the naval domain between them amid wider trends and developments at play.
As I have noted before in these pages, Brunei and Vietnam, two fellow Southeast Asian states and also both claimants in the South China Sea disputes, have a defense relationship in place as part of their wider bilateral ties, and that includes the naval domain as well. Following the signing of a memorandum of understanding on bilateral cooperation by the Royal Brunei Navy (RBN) and the Vietnam People's Army (VPN) in 2013, both sides have been looking for opportunities to strengthen naval ties in various areas, including goodwill visits and training, even while also managing some challenges.
Defense ties in general and naval relations more specifically have continued to be a focus in major visits and consultative mechanisms through this year thus far, even though details are often undisclosed and progress has often been slower than intended. Indeed, just in June, Vietnam's naval chief paid a visit to Brunei in yet another interaction that put the focus on that aspect of ties. The interaction provided an opportunity for both sides to review the status of the relationship and also discuss ways to advance collaboration still further through 2018 and beyond.
This week, the naval aspect of ties was in the headlines again with a Brunei Navy vessel paying a visit to Vietnam. Brunei's offshore patrol vessel, KDB Daruttaqwa, docked at Tien Sa Port on October 2 in what was characterized as the first-ever docking by a vessel of its type in Danang.
According to Vietnamese media outlets, the visit will see several interactions, including meetings between the Brunei naval delegation and Vietnam's Naval Region 3 Command and several other cultural and people-to-people interactions, including sporting events among personnel.
Following the visit, the KDB Daruttaqwa is expected to continue its wider deployment to several other Asia-Pacific states, including South Korea, where it will participate in the International Fleet Review that kicks off on October 9, and then onto China for the ASEAN-China Maritime Exercise.
Unsurprisingly, few additional specifics were publicly disclosed by both sides on the visit. But given the relatively increased activity we have seen in the maritime domain within the bilateral relationship, how both sides proceed on this front in the coming years will continue to be an interesting space to watch.