Can Bhutan's New Government Avoid Doklam 2.0?
The balancing act between China, India, and Bhutan's own interests continues under a new PM.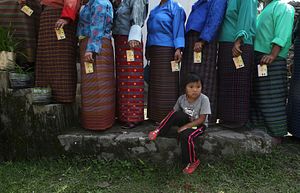 Bhutan's voters have given the Druk Nyamrup Tshogpa (DNT) a strong mandate in the country's recently concluded general election. A relatively new party, the DNT won 30 of the 47 seats in Bhutan's National Assembly (NA) and will form the new government.
Its victory is noteworthy; the party is forming the government on its debut in Parliament.
The new government faces several daunting tasks ahead. Inequality is rising as is unemployment; 10.6 percent of Bhutanese youth are unemployed. Foreign debt, which was 108.6 percent of its Gross Domestic Product (GDP) as of 2017, is growing, much of it being owed to India.
While addressing these problems will not be easy, "it is the managing of its relations with India and China" that the new government is likely to find the "most challenging," a Bhutanese official told The Diplomat. Bhutan will have "to do a careful balancing act" between the two countries. This will "not be easy" given the Sino-Indian geopolitical rivalry and tensions.
In contrast to its "special relationship" with India, Bhutan does not have official diplomatic or economic ties with China. However, the Bhutanese government is under pressure from Beijing to establish such relations. Besides, Bhutanese youth and the private sector are keen on doing business with China and attracting Chinese investment to provide a fillip to the economy.
Located in the eastern Himalayas, Bhutan is sandwiched between India and China. A landlocked country, it has depended on India for access to the sea. Besides, Beijing's increasingly assertive claims over Bhutanese territory from 1910 onward (in 1930, Mao Zedong named Bhutan and Nepal, among other countries, as falling within the "the correct boundaries of China"), its annexation of Tibet in 1950, and the brutal suppression of Tibetan Buddhists alarmed Thimphu, prompting it to turn to British India first and then independent India for support.
Bhutan's fear of Chinese aggression coincided with a wary India looking to Bhutan as its buffer against China. It culminated in New Delhi and Thimphu signing a Treaty of Perpetual Peace and Friendship in 1949, which gives India an advisory role in Bhutan's foreign relations. With Chinese incursions into Bhutan increasing in the late 1950s, defense cooperation between India and Bhutan intensified. So robust is this cooperation that the Indian military "is virtually responsible for protecting Bhutan from external and internal threats," as The Hindu put it.
India's role in Bhutan's economy is enormous too. India is Bhutan's largest trade partner, accounting for 79 percent of Bhutan's total imports and 90 percent of its exports. Bhutan's hydropower sector, which contributes 14 percent of its GDP and 27 percent of government revenue, is financed largely by India. Besides, India provides a market for three-fourths of Bhutan's hydropower production, with the rest being consumed locally. India is Bhutan's largest aid donor too and has financed much of its Five-Year economic plans.
Bhutanese of an older generation looked to India with gratitude for its role in developing their country's infrastructure. But Bhutanese perceptions of India are changing.
A small but growing number of Bhutanese are critical of India's grip over their economy and foreign policy. They describe its role in Bhutan's hydropower sector as exploitative. "Not only are the terms on which India is financing the hydropower projects unfavorable to Bhutan but also, it is getting electricity from Bhutan at cheap rates," the Bhutanese official pointed out. Importantly, Bhutanese are arguing that as a sovereign country, Bhutan should be able to determine its own foreign policy. Not establishing a normal relationship with China "at the behest of India" is seen as imperiling Bhutanese sovereignty.
Importantly, Bhutan is increasingly keen to settle its territorial dispute with China.
China lays claim to 764 square kilometers of territory, including 495 sq km in the Jakurlung and Pasamlung Valleys in north-central Bhutan and another 269 sq km in western Bhutan, comprising the Doklam Plateau.
Although Bhutan and China do not have official diplomatic relations, they have engaged in direct bilateral talks since 1984 to settle the border dispute. Twenty-five rounds of talks have taken place so far. China has reportedly offered Bhutan a "package deal," under which it will recognize Bhutanese control over the Jakurlung and Pasumlung Valleys in return for Thimphu ceding control over Doklam to China. Additionally, Beijing is reportedly insisting on Bhutan establishing trade and diplomatic relations as a quid pro quo for a border settlement.
Analysts argue that India is the stumbling block in the way of Bhutan and China settling their border dispute. Apparently, India is opposed to Bhutan handing over Doklam and especially the Jampheri Ridge to China as it would jeopardize India's national security – in the event of a crisis, the extra territory would facilitate Chinese capture of the Siliguri Corridor, a sliver of land that links the bulk of India to its northeast.
Hence, India is keen on Bhutan retaining control over Doklam. It is "pushing Bhutan to claim as much as possible" of the Doklam Plateau, writes Bhutanese blogger and political commentator Wangcha Sangay.
China has intimidated Bhutan repeatedly on the Doklam question. Although the two countries signed an agreement in 1998, promising to maintain peace and tranquility along the Sino-Bhutanese border areas, Beijing has carried out several incursions there. In November 2007, for instance, its soldiers dismantled several unmanned posts near the Chumbi Valley.
China's building of roads in Doklam triggered a serious crisis last year at this tri-junction, resulting in a 73-day standoff.
In August, India and China agreed on an "expeditious disengagement" from the area. However, satellite images reveal that Chinese troops have not pulled out. Indeed, Chinese road building and helipad construction continues. Therefore, the possibility of another India-China face-off here cannot be ruled out.
While Doklam is strategically important to India and China, its value to Bhutan is more economic than strategic; Doklam's rich pastoral land supports the livelihoods of people living in Bhutan's western border districts.
Ceding it to China would impose economic costs on Bhutan but it would give the latter settled borders. However, it would draw New Delhi's ire.
During the Doklam crisis, "Thimphu walked on eggshells, balancing between India's stifling embrace and the potential consequences from China," Indian defense analyst Ajai Shukla observed. The crisis underscored to the Bhutanese that their unresolved border dispute with China was leaving them vulnerable to entanglement in big power rivalries. Understandably, it has injected a sense of urgency in Thimphu to settle the border dispute with China.
Bhutan's new government is under some pressure from the Bhutanese people to act on this issue.
In addition, there are economic compulsions that would prompt the government to reach out to China. Diversifying Bhutan's hydropower-centric economy was one of the main election promises of the DNT and the government can be expect to set this in motion.
Such steps to diversify the economy, "will affect relations with India," S. D. Muni, a former diplomat and Professor Emeritus at the Jawaharlal Nehru University in New Delhi has said.
Even without official relations, China has a significant presence in the Bhutanese economy. A third of Bhutan's consumer imports consist of Chinese goods, which are making their way into Bhutan through third countries, Muni points out.
This Chinese presence will grow manifold once diplomatic and economic ties are established. It could enhance Chinese influence over Bhutan, as it has in India's other neighbors, such as Sri Lanka. There is concern in India that Bhutan could quickly slip into a debt trap, forcing Thimphu to hand over strategic assets to the Chinese in exchange for debt relief, as was Sri Lanka's experience.
There is concern in New Delhi that such a scenario would compel Bhutan to cede Doklam to China.
India has often been criticized for treating Bhutan as a protectorate.
However, India has sought to meet Bhutanese aspirations in the past. It was India that sponsored Bhutan's membership in the United Nations in 1971. Importantly, it replaced the 1949 Treaty with the Treaty of Friendship in 2007, which brought into the India-Bhutan relationship "an element of equality."
While these Indian moves represent a "long overdue shift in India's attitude towards Bhutan, it has not stopped New Delhi from flexing its muscles" when Bhutan exercises its rights as a sovereign country, the Bhutanese official said.
Then-Bhutan Prime Minister Jigme Thinley meeting with his Chinese counterpart, Wen Jiabao, on the sidelines of the Rio+20 Summit in Rio de Janeiro in 2012 angered India. New Delhi reacted by withdrawing fuel subsidies to Bhutan in the run-up to general elections in Bhutan the following year. Fuel prices surged and resulted in the defeat of the ruling Druk Pheunshum Tshogpa (DPT).
India's action was deeply resented in Bhutan. That underscores the need for India to respect Bhutan's sovereignty in letter, spirit, and practice.
Bhutan's new government is likely to be assiduously wooed by both its neighbors. India's Prime Minister Narendra Modi was swift in congratulating Bhutan's Prime Minister-elect Lotay Tshering and has invited him to visit New Delhi soon.
Tsheing's handling of relations with Bhutan's two giant neighbors will not be an easy task. But it is possible for Bhutan to establish ties with China without ruffling Indian feathers.
Muni suggests that Bhutan could consider "leaving the tri-junction [Doklam] unresolved while settling the remaining border issues and proceeding towards diplomatic relations with China." This could trigger heightened Sino-India "economic and diplomatic competition in Bhutan without eroding the substance of India-Bhutan relations."
A year after the Doklam crisis, Tenzing Lamsang, editor of The Bhutanese newspaper, called on India to desist from "excessive paranoia & speculation."
"You call us your closest friend, so at least trust us and give us some space," he tweeted.
Is New Delhi listening?
Dr. Sudha Ramachandran is an independent analyst based in Bangalore, India. She writes on South Asian political and security issues.