Can Japan Be a Climate Change Leader?
Prime Minister Shinzo Abe certainly thinks so.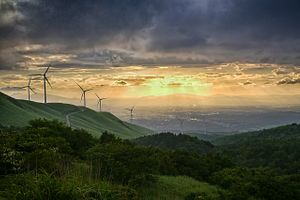 Almost immediately after winning another term at the helm of Japan's ruling party, Prime Minister Shinzo Abe signaled that he intended to show more leadership on climate change.
In making a case for urgent action in a newspaper op-ed, Abe pointed to the extreme weather events that had ravaged Japan over the summer. More than 200 people died as a result of torrential rain and landslides in western Japan, while the severe heat waves across the country led to some 160 deaths.
"Climate change can be life-threatening to all generations, be it the elderly or the young and in developed and developing countries alike," Abe wrote in the piece published by London's Financial Times on September 24. "The problem is exacerbating more quickly than we expected. We must take more robust actions. And swiftly."
Abe said all countries must put their promises into practice, noting that some were still increasing their level of greenhouse gas emissions. (Japan's emissions edged down 0.2 percent in the year to March 2017, the third straight year with a decrease.) Abe indicated that Japan would prioritize the climate issue when it hosts the G20 summit next year.
The move comes at a time when Japanese Foreign Minister Taro Kono – who was reappointed to the role in Abe's revamped cabinet on October 2 – has apparently been pushing the government to take a more aggressive stance to increase renewable energy and to step up its climate diplomacy.
As part of its commitment to the Paris Agreement, Japan pledged to reduce its emissions by 26 percent by 2030 (against a 2013 baseline). The Climate Action Tracker – a monitoring service run by Climate Analytics, NewClimate Institute, and Ecofys – rates this target as "highly insufficient" on the basis that if all government targets were in this range the globe would warm to between 3 and 4 degrees Celsius above pre-industrial levels. The Paris Agreement aimed to hold the increase in global average temperature to "well below" 2 degrees Celsius and pursue efforts to limit it to 1.5 degrees Celsius in a bid to reduce the risks and impacts of climate change.
Japan also has a long-term target to reduce emissions by 80 percent by 2050. The government is currently developing a long-term strategy that is expected to explain how it intends to achieve this.
Kono met recently with members of the Japan Climate Initiative, a new network of companies, local governments, and nongovernment organizations that are pushing for a decarbonized Japanese society. During the October 1 meeting, the group urged the government to take further actions on climate change and had "high hopes" for the forthcoming long-term strategy, according to a readout issued by Japan's Ministry of Foreign Affairs.
"Minister Kono stated his hope that the government and non-state actors may interact with each other in a constructive manner, leading to a virtuous cycle to strengthen Japanese response to climate change," the statement added. Kono wished the Japan Climate Initiative well and said he looked forward to cooperating with it.
It's not the first time Kono has given words of encouragement to those pushing for stronger climate response. In a speech in January, Kono warned that Japan was lagging behind the world when it came to deployment of renewable energy sources. He said it was "lamentable" that Japan had a goal for renewables to account for just 22 to 24 percent of its energy mix by 2030, when the sector already accounted for about 24 percent of the global energy mix.
The following month, Kono received a report from his advisory panel on climate change that indicated Japan was facing increasing international scrutiny over plans to build new coal-fired power plants and the government-led support for exporting similar technology to developing countries. As noted previously on Tokyo Report, the advisory panel called for Japan to place renewables and collaboration at the center of its energy diplomacy. Japan was ranked a lowly 116th in the climate change and energy category of Yale University and Columbia University's 2018 Environmental Performance Index.
Against this backdrop, Abe has now made it clear that addressing climate change and other environmental challenges will be a key part of the G20 agenda next year. He said governments devising long-term strategies should promote innovation and spread the net widely for new ideas. Abe argued they should not exclude any alternatives, including "safe nuclear power generation."
Japan, he wrote, would use the summit in Osaka in June to focus on "accelerating the virtuous cycle of environmental protection and economic growth."
That may well be a difficult task. Divisions between the United States and the rest of the G20 were laid bare at the previous leaders' summit in Hamburg in July 2017, which occurred shortly after President Donald Trump announced his decision to withdraw from the Paris Agreement. The G20 leaders' declaration said the 19 other members viewed the Paris Agreement as "irreversible" and they were strongly committed to swift implementation.
Abe finished his op-ed with a call to action: "We invite the rest of the world to join us in tackling this tough challenge."
However, with Japan facing scrutiny about its own performance on climate policy, the soon-to-be-released long-term strategy looms as a key indicator of how seriously Abe views the challenge.