Indonesia-Australia Defense Ties in Focus With Ministerial Meeting
A recent engagement spotlighted the security aspect of ties between the two sides.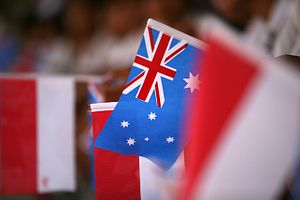 Last week, Indonesia and Australia held a defense ministers' meeting. The interaction, which is one of several that underpin the current shape of bilateral defense ties, put the focus on the developing security relationship between two significant and capable actors in the Indo-Pacific region.
As I have noted previously in these pages, Indonesia and Australia, two neighboring, significant, and highly capable actors in the Indo-Pacific, have had a turbulent relationship historically speaking but have also made some inroads in recent years in their defense ties in spite of occasional tensions and crises, which continue to occur from time to time.
That collaboration on the defense side has continued into 2018 as well in spite of some wider domestic and regional challenges. These include the change in Australian leadership in late August that saw Prime Minister Malcolm Turnbull give way to Scott Morrison, as well as the recent speculation – subsequently denied – that an Australian effort to recognize Jerusalem as the capital of Israel may imperil ongoing talks on a trade deal between the two sides.
In March, the two countries held another iteration of their two-plus-two meeting featuring their defense and foreign ministries. The agenda on the security side included counterterrorism and maritime security in the Sulu Sea. More recently, the new comprehensive strategic partnership inked between the two sides during Morrison's visit to Indonesia in August had a heavy security focus, which factored into three of the mentioned five pillars of cooperation (securing shared interests; maritime cooperation; and Indo-Pacific security and prosperity).
Last week, the bilateral relationship was in the headlines again with the holding of the defense ministers' meeting between the two sides. Both countries held official talks in Bali on October 11 led by Indonesian Defense Minister Ryamizard Ryacudu and Australian Defense Minister Christopher Pyne, who had just assumed the portfolio in August.
According to the Indonesian defense ministry, a whole host of issues were on the agenda during the meeting, including elements of bilateral ties such as maritime security and information sharing as well as more regional issues such as the architecture around the Indian Ocean region and counterterrorism.
And while few further specifics were disclosed, beyond these discussions, Pyne said that the two countries had also identified some further areas of collaboration as well, including in ongoing initiatives such as trilateral patrols and the Our Eyes intelligence sharing mechanism. Ahead of his meeting with Ryacudu, Pyne had told Fairfax Media that though Australia had yet to be formally invited to join Our Eyes, it was open to joining and providing information and training.
Among the more concrete outcomes that Pyne highlighted from the meeting itself was the establishment of an officials-level joint working group on counterterrorism. While no details were issued by either side, Pyne characterized it as an effort to identify areas of collaboration to combat terrorism and the return of foreign fighters.