What's in the New Australia-Indonesia Military Pact?
The two sides inked a new version of their defense cooperation agreement last week.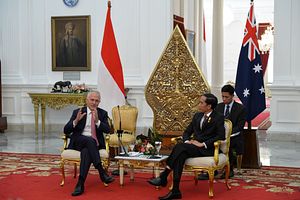 Last week, as expected, Indonesia and Australia finally inked a new defense cooperation agreement following the expiry of a previous one last year. The signing of the pact, which is one of several that underpin the current shape of bilateral defense ties, put the focus on the developing security relationship between two significant and capable actors in the Indo-Pacific region.
As I have noted previously, Indonesia and Australia, two neighboring, significant, and highly-capable actors in the Indo-Pacific, have had a turbulent relationship historically speaking but have also made some inroads in recent years in their defense ties in spite of occasional tensions and crises, with the latest being last year when military cooperation was suspended temporarily for technical reasons (See: "Old Shadows in New Australia-Indonesia Military Spat").
Indonesia-Australia security ties have been underpinned most recently by the Lombok Treaty, which established a framework to govern security ties in 2006, as well as supporting mechanisms inked since then including a two-plus-two dialogue between their foreign and defense ministers as well as a defense cooperation agreement (DCA) inked in 2012. The initial DCA was inked between the two defense ministries on September 5, 2012, and had expired on September 5, 2017.
On February 1, Australian Defense Minister Marise Payne and Indonesian Defense Minister Ryamizard Ryacudu inked a new DCA. The signing occurred on the sidelines of a new subregional defense meeting around counterterrorism that Australia had convened in Perth which saw six Southeast Asian countries attend: Indonesia along with Brunei, Malaysia, the Philippines, Singapore, and Thailand (See: "What's Next for the New ASEAN-Australia Defense Meeting?").
Unsurprisingly, few specifics were publicly unveiled about the content of the agreement itself. In a short statement, Australia's defense ministry said that the pact reaffirmed the strength of a longstanding relationship, the intent to deepen engagement in future decades, and the continued belief in the foundations of bilateral defense ties including mutual respect for sovereignty and territorial integrity underpinned by the Lombok Treaty.
Apart from signing the new DCA, the two defense ministers also held a meeting where they discussed various security issues of mutual interest. Indonesia's defense ministry said that this included general issues such as North Korea, the South China Sea, and the Rohingya crisis, as well as more specific developments such as progress on trilateral patrols in the Sulu-Sulawesi Seas and counterterrorism intelligence cooperation with the "Our Eyes" initiative which Indonesia has been strongly supporting (See: "ASEAN Launches New 'Our Eyes' Initiative").