International Court of Justice to Hold Public Hearing on Kulbhushan Jadhav Case
Kulbhushan Jadhav's fate will be publicly deliberated by Indian and Pakistan lawyers before the ICJ.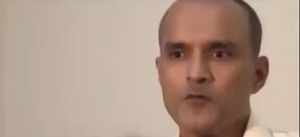 The International Court of Justice (ICJ) has announced that it will hold a public hearing on the case of Kulbhushan Jadhav, an Indian national detained in Pakistan on espionage charges, in February 2019. The announcement follows a unanimous decision last May by the ICJ that it had jurisdiction in the case and that Pakistan should take measures to prevent Jadhav from being dealt the death penalty.
"The hearings will be streamed live and on demand (VOD) in English and French on the Court's website as well as on UN Web TV, the United Nations online television channel," said a press release issued by the ICJ. The public hearings will thrust the issue back to the top of the public agenda in both India and Pakistan as lawyers for the two countries make their cases heard before the international court.
In April 2017, Jadhav had been sentenced to death by a Pakistani military court after being charged with espionage and terrorism. The Pakistani government maintained that Jadhav was working for India's overseas intelligence agency, the Research and Analysis Wing.
India has denied Jadhav's involvement in any espionage-related activities and claims his innocence, alleging instead that he was kidnapped by Pakistan's intelligence agents from Iran. India claims that he is a retired Indian Navy officer who was running a business in Iran's Sistan-Baluchestan province.
Jadhav's treatment in Pakistan became a major bilateral issue became the two countries in 2016, after his arrest that March. India repeatedly sought consular access to Jadhav in Pakistan, but was denied.
In December 2017, Jadhav's mother and wife were able to briefly meet him in Pakistan, though India later released a statement condemning Pakistan's handling of the visit, alleging that they had been harassed by Pakistani authorities.
The upcoming ICJ hearing is likely to thrust the Jadhav issue back to the forefront of India-Pakistan relations. The ICJ's decision raises his case's profile again at a time when India and Pakistan relations are entering their first major bilateral chill under new Pakistani Prime Minister Imran Khan.
Pakistani Foreign Minister Shah Mehmood Qureshi, in August, said that he was hopeful Pakistan would prevail before the ICJ. "We have solid evidence against Jadhav and are hopeful we will win the case in the ICJ," he said in August.
"We will try to move forward under the leadership of Prime Minister Imran Khan. The nation should be ready as we will have to take some bitter decisions," he added.