Russia to Deliver S-400 Air Defense Systems to India Within 2 Years
India is expected to receive its new S-400 air defense systems within two years, according to a senior Russian defense official.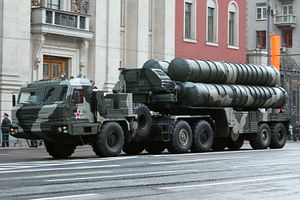 India will receive its first regimental set of Russian-made Almaz-Antei S-400 Triumf air defense system (NATO reporting name: SA-21 Growler) by 2020, the head of Russia's Federal Service for Military Technical Cooperation, Dmitry Shugaev, told reporters on October 17 in Moscow. "First deliveries are expected within two years," he said confirming reports that delivery of the new weapons systems would begin 24 months after the conclusion of the sales contract.
The much anticipated $5 billion contract for the procurement of five S-400 air defense squadrons (regiments) destined for service in the Indian Air Force (IAF) was officially signed during this year's India-Russia bilateral annual summit held in New Delhi in early October. The signing ceremony was attended by Indian Prime Minister Narendra Modi and Russian President Vladimir Putin. New Delhi persisted in its decision to purchase the Russian-made S-400s despite strong opposition from the United States. (Russia remains India's largest supplier of defense equipment.)
The United States continues to mull the imposition of economic sanctions on India under U.S. legislation known as the Countering America's Adversaries Through Sanctions Act (CAATSA), which seeks to economically and financially punish countries engaging in "significant transactions"–defined as any transaction above $15 million–with the Russian state-owned defense industry. While the Trump administration has been given authority under the 2019 U.S. National Defense Authorization Act (NDAA) to waive sanctions in special cases — principally in cases pertaining to Soviet-era military hardware costing less than $15 million — the S-400 is both more expensive and a more advanced weapon system. Nonetheless, as I noted earlier this month:
[I]t is (…) unlikely that India will be subject to financial sanctions as a result of the procurement as the United States does not want to jeopardize the evolving strategic partnership between the two countries. Various U.S. officials, including U.S. Secretary of Defense James Mattis, have openly spoken out against possible sanctions on India.

Furthermore, according to a former senior Indian government official speaking to The Diplomat on the condition of anonymity, senior U.S. administration officials have repeatedly signaled in conversations that New Delhi will not be punished for the purchase.
As the first delivery of an S-400 squadron is not expected for another 24 months, the Trump administration will have ample time to find a compromise that does not jeopardize the burgeoning strategic and defense partnership between India and the United States should it have the political will to do. U.S. President Donald Trump recently hinted during an interaction with reporters that New Delhi will find out about his decision whether to grant a waiver or impose sanctions in the near future. "India will find out soon… sooner than you think," the U.S. president said.