A New Documentary Showcases the Official Indian Narrative on Kashmir
A pro-establishment media organization seeks to justify the Indian government's policies.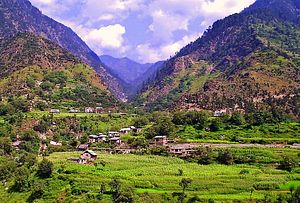 A recent documentary series, "Kashmir: The Story," by the Indian news channel Times Now, brings to my mind an interaction I had with a few media students from the territory disputed between India and Pakistan. That was my first ever meeting with Kashmiris of my age. As we discussed the decades-long insurgency on the Indian side of Kashmir at a Press Council of India event last year, they expressed their indignation over media in Delhi furthering a one-sided view on the conflict in Kashmir helping the Indian government hide its oppression.
The six-part series shows that their disappointment with India's nationalist media is understandable. The documentary appears to attribute the tensions that have lasted for decades in Kashmir entirely to the territorial dispute between India and Pakistan, which have fought three wars over the region. It seeks to put the entire blame on Pakistan for using Kashmiris for a proxy war against India. This narrative glosses over the aspirations of Kashmiris for self-determination and freedom from India, and turns a blind eye to alleged human rights violations in the Kashmir valley by the Indian army.
Times Now is widely believed to be biased in favor of the governing Bharatiya Janata Party (BJP), which is dealing with the militancy in a predominantly Muslim Kashmir with a heavy hand, and has refused to engage separatist leaders or Pakistan to resolve the crisis. During the 2016-17 protests in the valley, more than 90 civilians died, over 15,000 were wounded, and at least 4,000 security personnel also suffered injuries. Times Now importantly is one of those rare news channels to which Indian Prime Minister Narendra Modi has given an interview after assuming office in 2014.
The documentary starts with a twisted version of Kashmir's history by omitting the despotic and communal reign of King Hari Singh, the Hindu ruler of Kashmir from 1925 to 1947, when the majority of the population was Muslim. Despite their qualifications, Muslim youth were denied higher posts in the state administration, which was dominated by Hindus. This led to the first uprising for self-determination in 1931 and Sheikh Abdullah emerged as the leader.
As Alex Von Tunzelmann wrote in her book, Indian Summer: The Secret History of the End of an Empire, "During September and October 1947, the King's troops carried out a campaign of sustained harassment, arson, physical violence and genocide against Muslim Kashmiris in at least two areas: Poonch, right on the border with Pakistan, and pockets of southern Jammu."
The persecution of Muslims gave Pakistan, which was then a new-born Islamic republic, an excuse to invade Kashmir. Despite this history, the BJP asked the government of Jammu and Kashmir to declare a public holiday on the birth anniversary of Hari Singh.
Further, the documentary doesn't shed light on how the will of Kashmiris was betrayed in independent India when Sheikh Abdullah, the first democratically elected prime minister of Jammu and Kashmir, was controversially removed in 1953 by the governor for allegedly losing confidence of his cabinet. He was denied a chance to prove his majority. He was later jailed for 11 years on supposedly fabricated charges of conspiring against the state.
Many historians believe that the central government, headed by Jawaharlal Nehru then, was behind it, as it was afraid of Abdullah's growing aspirations for the independence of Kashmir. As historian Ramchandra Guha wrote in India After Gandhi, "The developments of 1952-53 had raised sharp questions about India's moral claim to the (Kashmir) Valley."
The Times Now documentary purports to show Kashmir merely in the crossfire. It says, "Kashmir has suffered Pakistan-sponsored militancy, border disputes with China, counter measures by the Indian armed forces, and homegrown factions of militants that have been created by these factors." What it omits is allegations of abuses perpetrated by the Indian army, including mass killings, enforced disappearances, torture, rape and sexual abuse, political repression, and suppression of freedom of speech.
Amnesty International has recorded more than 800 cases of torture and custodial deaths in Kashmir by the Indian army and security forces in the 1990s, and hundreds of other cases of extrajudicial executions and enforced disappearances from 1989 to 2013.
The Association of Parents of Disappeared Persons (APDP), a collective of relatives of victims of enforced and involuntary disappearances in Kashmir, says that up to 10,000 people have disappeared. "Most of them have been killed while in custody of the army or the security men," according to a report by Independent People's Tribunal, a human rights organisation working in Kashmir.
"There is almost total impunity for enforced disappearance with little movement towards credibly investigating complaints," stated Zeid Ra'ad Al Hussein, the former UN High Commissioner for Human Rights, in June.
"There are 500,000 armed troops, 300,000 army men, 70,000 Rashtriya Rifles soldiers, a highly decorated battalion of Indian army, 130,000 central police forces as against the total population of 1 crore (10 million). There is (approximately) one soldier for every twenty people," making Kashmir the world's most militarized zone, according to the Independent People's Tribunal Report On Human Rights Violations In Kashmir, a civil society group.
Rape has also been used as a potent weapon to coerce people into submission as part of military operations. A notable incident took place in 1991 in the twin villages of Kunan and Poshpora in the remote district of Kupwara, where women between the ages of 13 and 80 were allegedly raped by security forces. Former chief of India's Border Security Force, E.N. Rammohan, who has served in Kashmir, told an Indian newspaper, "I am convinced there have been rapes, even if I can't say how many. There has been a massive dereliction of duty by the district police and authorities."
Salman Khurshid, a former foreign affairs minister of India, expressed his remorse on the incident in 2013, saying, "I am ashamed that it (Kunan-Poshpora mass rape incident) happened in my country … I am shocked that I am not able to do anything about it."
The Public Safety Act and the Armed Forces (Special Powers) Act, or AFSPA, enacted in Kashmir in 1978 and 1990 respectively, give wide discretionary powers to security forces to kill, arrest, search, and detain local people.
The Jeevan Reddy Committee, appointed in 2004 to review the provisions of AFSPA, wrote in its report that the act "has become a symbol of oppression, an object of hate and an instrument of high handedness," and recommended that it should be repealed. The report was not made public for many years, and was finally rejected by the Indian government in 2015.
Governments around the world have needed media to justify their actions. This documentary series can be seen as yet another example of that effort.