Bangladesh and Myanmar Announce Pending Rohingya Repatriation
Despite UN warnings, the two countries announced that the repatriation of Rohingya refugees would take place in mid-November.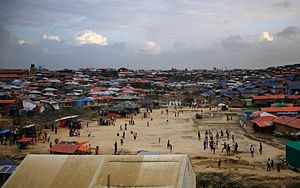 On Tuesday, Bangladesh's Foreign Minister Md. Shahidul Haque and Myint Thu, permanent secretary of Myanmar's Ministry of Foreign Affairs, announced a "very concrete plan" to start the repatriation of Rohingyas next month.
"We have shown our political will, flexibility and accommodation in order to commence the repatriation at the earliest possible date," Myint Thu told reporters at a joint press conference in Dhaka after the two countries met for their third Joint Working Group meeting. Myint Thu's comments were further corroborated by Haque, who stated: "We are looking forward to start the repatriation by mid-November."
This comes just a week after Marzuki Darusman, chair of the UN fact-finding mission on Myanmar, stated that the influx of Rohingya refugees into Bangladesh continues and those that remain "continue to suffer the most severe restrictions and repression."
"It is an ongoing genocide," said Darusman at a news conference on Wednesday. UN officials have reported that nearly 14,000 Rohingya refugees have crossed the border into Bangladesh this year.
More than 700,000 Rohingyas have fled from Rakhine state in Myanmar since August last year after a "clearance mission" led by Myanmar's military. The stateless refugees have settled into makeshift camps in Cox's Bazar, Bangladesh.
A report released by the UN fact-finding mission in September found harrowing accounts of women tied by their heads and hands to trees and raped; young children pushed back inside burning houses as they tried to flee; and landmines placed at the village escape routes to kill those that tried to run. The report supported the conclusion that repatriation of the refugees was impossible under prevailing conditions.

"The security forces who perpetrated gross human rights violations, with impunity, would be responsible for ensuring the security of returnees," read the report. "Repatriation in such condition is inconceivable."
Myanmar's army generals stand accused of "genocidal intent" by the UN and the fact-finding mission has called for prosecution of Min Aung Hlaing, Myanmar's commander-in-chief, and five generals for genocide under international law.
Myanmar's representative to the UN, Kyaw Moe Tun, criticized the UN report, stating that it lacked "balance, impartiality and fairness." State Counsellor of Myanmar and de facto leader Aung San Suu Kyi has repeatedly questioned the validity of the fact-finding mission and set up her own government-commissioned panel. However, many have raised doubts about the panel's impartiality and its willingness to condemn atrocities.
Addressing the issue of the safety of refugees, Myint Thu has insisted that Myanmar has "put in place a number of measures to make sure that the returnees will have a secure environment for their return," reported Radio Free Asia.
"First of all we have streamlined a lot of local directives in order to promote awareness on the repatriation among the returnees," Myint Thu told reporters. "We are also promoting public policing, which includes police personnel together with the local communities to maintain and promote law and order."
This is a second attempt by the governments to set a date for the repatriation of the Rohingya. An attempt to repatriate was made in January based on a November 2017 agreement that called for a "voluntary, safe, and dignified" repatriation. However, the process never began, as Bangladesh delayed the repatriation pending further "preparations."
Bangladesh, once a welcoming host to the Rohingyas, is starting to feel the economic burden of the sudden influx refugees in an already impoverished developing nation. Bangladeshi Prime Minister Sheikh Hasina, who is facing elections at the end of the year, last month held Myanmar responsible for the delay. Hasina has aggressively suppressed dissent in Bangladesh and focused on courting voters in the past few months. She told Reuters that Bangladesh will not be allowing the refugees to stay permanently.
Bangladesh's record on treatment of Rohingyas is not clean either. According to Human Rights Watch, in the late 1970s, Bangladeshi authorities cut off refugee camps' access to the food supply to force the Rohingyas to return to Myanmar. Over 12,000 refugees starved to death. Bangladesh has also forcefully deported thousands of unwilling refugees in the 1990s.
In June, Myanmar signed an MoU with the UN, which stated that certain conditions, like guaranteed security and a pathway to citizenship, needed to be implemented for the repatriation to begin. The Rohingya have been effectively denied citizenship in the Buddhist-majority Myanmar under its 1982 Citizenship Law and are often referred to as illegal "Bengali" migrants despite roots dating back to 7th century. However, no such attempts have been made to alter the citizenship situation.
Many are skeptical about the conditions the Rohingya will be returning to and the hastiness of the decision. The Rohingya will not be going back to the villages they fled from in Rakhine. In February, Human Rights Watch, using satellite images, observed that over 50 Rohingya villages were bulldozed and destroyed to hide the evidence of genocide. Infrastructure development over the bulldozed villages has already begun but critics are wary of whether it would help the Rohingya. According the the agreement, the returning refugees will be going to reception camps built by Myanmar on the border.
Furthermore, a recent report by The Guardian found persistent discrimination and animosity toward the Rohingya among the Burmese. Many Burmese continue to refer to Rohingya as "terrorists" and blame them for the violence in the region.
The United Nations Refugee Agency (UNHCR) finds that the necessary safeguards for the return of refugees are "absent" and the conditions are "not yet conducive" in Myanmar's Rakhine state for repatriation.
"It is critical that returns are not rushed or premature," said UNHCR spokesperson Andrej Mahecic to Reuters. "We would advise against imposing any timetable or target figures for repatriation."
Bansari Kamdar is a freelance journalist and researcher based in Boston. She writes on South Asian political economy, gender, and security issues. Bansari has an MA from Boston University in International Relations and International Communication, along with graduate certificates in Asian Studies and Women's, Gender, & Sexuality Studies.