Cambodia's Khmer Rouge Era in the Spotlight with Guilty Verdicts
Despite two sentencings, questions on the quest for justice remain.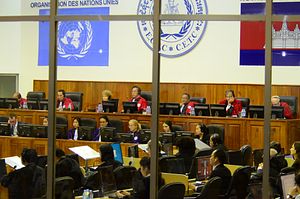 PHNOM PENH – Last week, around four decades after a Vietnamese invasion ended the tyranny of the Khmer Rouge in Cambodia, a United Nations-backed court found genocidal leader Pol Pot's surviving henchmen guilty of genocide and sentenced both men to life imprisonment.
Former head of state Khieu Samphan, 87, was convicted of genocide against the ethnic Vietnamese, and Brother Number Two Nuon Chea, 92, was found guilty of genocide against the Muslim Chams and the ethnic Vietnamese.
Further convictions were also registered relating to crimes against humanity and grave breaches of the Geneva Convention covering forced marriage and rape, forced exodus of people from cities and towns to the countryside, and their treatment of Buddhists and officials from the Lon Nol regime.
Lon Nol was ousted by Pol Pot in April, 1975 and around two million people by one count would perish over the next three-and-a-half years as the Khmer Rouge set about creating a Communist agrarian utopia.
Both men pleaded not guilty and were already serving a life sentence for crimes against humanity. Kaing Guek Eav, known as Duch, commandant of S-21 who took his orders from Nuon Chea, was convicted of crimes against humanity in 2010 and also jailed for life.
Judge Nil Nonn ordered the additional life sentences to be served concurrently. He also said Nuon Chea bore ultimate responsibility for S-21, where more than 20,000 people were tortured and processed for extermination, many of them Vietnamese.
"The fate of these prisoners was a forgone conclusion as they were all ultimately subject to execution," he said.
The relief in the packed gallery was palpable as the verdict was read out. Muslim Chams and Buddhist clergy were prominent
Spokesman for the Council of Ministers, Bin Chhin, said the verdicts would go a long way towards finding some kind of justice for the victims of the Khmer Rouge, adding it was "an historic day for Cambodians and all humanity."
However, others, like former crime scene investigator Craig Etcheson, said the crimes were too great for the courts to deliver any real justice:
When millions of people are killed and millions more have had their lives torn asunder, ordinary legal processes, or even extraordinary ones, are inevitably impotent to render anything resembling real justice to the legions of victims.

Many victims inevitably will be disappointed. What tribunals can do, however, is to deliver a form of symbolic justice by identifying the masterminds of the atrocities, and holding some of them to account.

For some victims, that is enough, and more justice than they ever expected to receive.
There have also been complaints about costs. More than $300 million has been spent in securing convictions against three men; that equates to about $150 for each person who died under the ultra-Maosists.
Much of the total costs were paid by foreign donors, with the Japanese, Australian, and U.S. governments contributing to the bulk of the funding.
Nuon Chea and Khieu Samphan had mounted a vigorous defense while refusing to cooperate with the court. It was in stark contrast to the trial of Duch who confessed, thus laying a legal strategy for prosecutors that culminated in today's genocide convictions.
However, Youk Chhang, who heads the DC-Cam, which investigated the atrocities and was winner of this year's Ramon Magsaysay award, also noted that neither Noun Chea or Khieu Samphan had not confessed to what they did.
"We cannot hold their hearts and forgive them. They must be forced to read all the victims confessions until they die in prison," he said. "And the Court must punish them more."
Another issue is what the path forward will be on justice. Cambodian government officials continue to reiterate that the tribunal's work has been completed and that there will not be additional prosecutions, despite the fact that the cases of several other suspects have been processed for prosecution.
This and other lingering issues will do doubt continue to place scrutiny on the quest for justice in Cambodia for crimes committed during the Khmer Rouge era.
Luke Hunt can be followed on twitter @lukeanthonyhunt