Even With a Waiver, Will Iran Sanctions Chill US-India Ties?
Without greater energy cooperation, the U.S.-India partnership will feel the chill from an Iranian sanctions winter.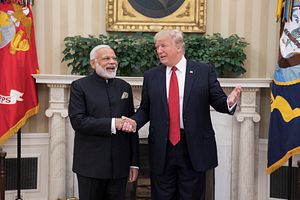 The United States has granted India a broad waiver to the second wave of reconstituted sanctions on Iran following Washington's withdrawal from the 2015 Joint Comprehensive Plan of Action, or Iran nuclear deal. With this waiver, India will be back to dealing with Iran in much the same way it did before the Iran nuclear deal. This is important for India since it must import some 80 percent of its oil and Iran has historically been its third largest supplier. Under the U.S.-India waiver agreement, India will limit its imports to 1.25 million metric tons per month through March 2019. This is about 70 percent of what India had been importing from Iran prior to U.S. withdrawal from the Iran nuclear deal.
India will use a payment mechanism that will allow the United States to argue that Iran is unable to use the proceeds from the oil sales to India for terrorist purposes. Transactions will be in rupees deposited in an escrow account at an Indian state-owned bank. The rupees can be used to purchase Indian goods considered "humanitarian." The purchases are expected to be largely of Indian rice and pharmaceuticals
The waiver agreement is favorable to U.S.-India relations for at least two fundamental reasons:
First, the waiver is a recognition that economic factors are important to the U.S.-India strategic partnership. This is a partial victory for those in the Trump administration who recognize the importance of economic engagement to the U.S.-India strategic partnership. Although highly critical of Iran, Secretary of State Mike Pompeo and Secretary of Defense James Mattis appreciate that economic and strategic matters are necessarily conjoined.
This waiver arises in part out of the September "two-plus-two" discussions held in New Delhi between Pompeo and Mattis and their Indian counterparts, Minister of External Affairs Sushma Swaraj and Minister of Defense Nirmala Sitharaman. At this meeting and in subsequent negotiations, India made it clear how oil is critical for sustaining the economic growth of India and the United States confirmed its understanding of India's oil situation.
Pompeo and Mattis are generally supported in an appreciation of the importance of economic engagement by Secretary of the Treasury Steve Mnuchin. Mnuchin has resisted calls to cut India and others off from the mechanism that allows banks to clear large dollar transactions, the Society for Worldwide Interbank Financial Transactions (SWIFT). Barring India from SWIFT would create havoc for India and severely damage the U.S.-India relationship..
The waiver was a blow to hardline advocates of military force such as National Security Advisor John Bolton. Bolton has warned that there "would be hell to pay" for actions against the United States and that "[w]e do not intend to allow our sanctions to be evaded by Europe or anybody else." In the event, Bolton was forced to admit that sanctions should not hurt "friends and allies" but did not participate in the rollout of sanctions. The ultra-hawks who support Bolton have made known their displeasure with the waivers.
The waiver augurs well for the Trump administration's using the authority recently granted by Congress for exempting India from the Countering America's Adversaries Through Sanctions Act (CAATSA). India's purchase of the S-400 surface to air missile system from Russia seems less likely now to bring down sanctions under CAATSA, based on the precedent of the Iran sanction waiver, but what will actually happen is still unknown.
Second, the waiver agreement indicates the willingness of the United States and India to work together on India's oil and gas needs. When Secretary of Energy Rick Perry went to India earlier this year, he signed a "Strategic Energy Partnership" with the minister of oil and natural gas. This agreement sent a strong signal of the Trump administration's perspective on oil and gas in the U.S.-India relationship. The Trump administration has continued the primacy of petroleum as it rolled out the economic side of its strategy for the Indo-Pacific.
The unstated premise of the U.S.-India waiver agreement is that the United States will act as a chief source for finding the petroleum to make up lost oil imports from Iran. With the advent of fracking and the resumption of the U.S. role as the world's leading producer of oil and gas, the United States wants to sell oil and gas to India. The U.S. ban on oil exports was lifted in 2016 under President Barack Obama, but oil exports from the U.S. to India have skyrocketed during the Trump administration. Producers and traders in the United States sent more than 15 million barrels of U.S. crude to India this year through July, compared with 8 million barrels in all of 2017.
These positive implications from the waiver for the U.S.-India strategic relationship are at least partially offset by other aspects of the waiver agreement.
First, the waiver is only for six months. Trump has tweeted about the sanctions in a take-off on the Game of Thrones' "Winter is Coming" warning. To many this is a warning that a period of darkness and danger is coming not only for Iran but any who dare not comply with the U.S. Iran sanctions. Pompeo and Mnuchin have been at pains to point out that additional sanctions may be imposed on countries that do not continue to reduce their contacts with Iran.
The possibility of further U.S. demands adversely affecting the relationship in six months is ominous – and apparently Trump intends for it to be. The reality is that increasing world oil prices were a salient factor in U.S. willingness to accept waivers that leave a flow of oil from Iran partially in place. What happens to oil prices over the next six months will affect U.S. insistence on India's further cutting Iranian oil imports.
The waiver does not apply just to India, but seven other nations as well. The United States and India have tended to think of their relationship as special, based on common values as well as strategic imperatives. It is difficult to see the waiver as reflecting a special relationship when it includes rival China as well as a half-dozen others.
With the rupee payment mechanism and regulatory changes, India is indicating its willingness to "work around" U.S. sanctions. If the European Union establishes a "special purpose vehicle" that actually works for oil transactions with Iran, India's willingness to utilize such a "work around" solution would adversely affect its U.S. relations.
Thus, the oil waiver has enabled U.S.-India relations to avoid serious damage thus far from unilateral U.S. sanctions. Working together to see that India is not adversely affected by the U.S. quarrel with Iran could encourage greater U.S.-India cooperation on energy security. However, unless U.S. energy cooperation reaches a level higher than ever before, the U.S.-India partnership will feel the chill from an Iranian sanctions winter.
Raymond E. Vickery Jr. is a senior associate of the Wadhwani Chair in U.S.-India Policy Studies at the Center for Strategic and International Studies in Washington, D.C.