Sri Lankan Lawmakers Pass No-Confidence Motion Against Rajapaksa
The motion may intensify the ongoing constitutional crisis as Rajapaksa's supporters refuse to recognize its legitimacy.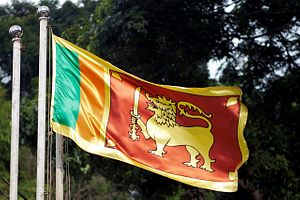 Sri Lanka's ongoing constitutional crisis deepened on Wednesday as lawmakers successfully passed a no-confidence motion against the newly appointed prime minister, Mahinda Rajapaksa. The vote took place in a tense political environment, with lawmakers supporting Rajapaksa making their opposition to the motion known by shouting that the vote itself was illegal.
In parliament, the motion was carried by a voice vote, whereby legislators responded to the motion vocally. "According to the voice, I recognize that the government has no majority," Sri Lankan Parliament Speaker Karu Jayasuriya said on Wednesday, recognizing that a majority of the 225-member unicameral parliament had expressed a lack of confidence in Rajapaksa.
Rajapaksa's supporters and allies, including the Sri Lanka Podujana Peramuna, refused to recognize the legitimacy of Wednesday's vote. "The speaker said over the noise that he wanted us to scream to decide who's the prime minister," Namal Rajapaksa, Rajapaksa's son, told the Guardian. "We can't do that. If the speaker wants to select a prime minister, then he can show 113 votes to the president and ask for it," he added.
Ranil Wickremesinghe, the prime minister of Sri Lanka since 2015 who was dismissed by President Maithripala Sirisena at the start of the ongoing crisis, said that the vote showed the support of 122 lawmakers. "If anyone wants to challenge the speaker's decision they can put it to vote," Wickremesinghe said.
The vote is a setback to Rajapaksa, a former president for a 10-year term, and Sirisena, who appointed Rajapaksa on October 26. The constitutional crisis began after Sirisena dissolved his cabinet, dismissed Wickremesinghe, and appointed Rajapaksa to the prime minister post. The move left Sri Lanka with two men claiming to be the legitimate prime minister, raising the possibility of violent clashes.
In the days since Rajapaksa's appointment, he and Wickremesinghe have worked to flip lawmakers to their cause, anticipating a possible no-confidence motion. Rajapaksa would have needed the support of 113 lawmakers at a minimum to have his appointment confirmed with the support of parliament.
Shortly after Rajapaksa's swearing-in, Jayasuriya had expressed his interest in resolving the crisis through a parliamentary vote. "We should settle this through parliament, but if we take it out to the streets, there will be a huge bloodbath," he told reporters on the day of Rajapaksa's swearing-in two weeks ago.
Rajapaksa's supporters have seen Jayasuriya as partisan in favor of Wickremesinghe. Shortly after his sacking by Sirisena, Jayasuriya recognized Wickremesinghe as the legitimate prime minister.