The US and China Are Talking Again, But 'Competition' Is Set to Continue
It'll take more than a reconvened Diplomatic and Security Dialogue to get the U.S. and China off their current trajectory.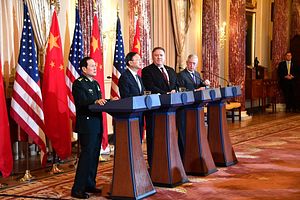 The United States and China, after a delay, have concluded their second annual diplomatic and security dialogue at a time of unusually high bilateral tensions along all fronts.
Even beyond the ongoing trade war, the recent meeting between U.S. Secretary of State Mike Pompeo, U.S. Secretary of Defence James Mattis, Chinese Politburo member Yang Jiechi, and State Councillor and Defence Minister General Wei Fenghe follows several notable events.
In August, the U.S. moved to impose sanctions on the People's Liberation Army's Equipment Development Department in connection with China's receipt of Russian-made S-400 surface-to-air missile systems and Su-35 fighter jets. In September, at the United Nations, U.S. President Donald Trump accused China of interfering in the U.S. midterm elections.
It didn't stop there. In late September, a Chinese Type 052C destroyer almost caused a collision with a U.S. navy destroyer lawfully conducting a freedom of navigation operation near Gaven Reef in the Spratly Islands in the South China Sea.
That incident came a day after the U.S. approved a probable sale of military aviation components to Taiwan and the same week U.S. Vice-President Mike Pence would deliver a speech highlighting a long list of U.S. grievances with China's domestic and international conduct.
Throughout these three months, Beijing called off scheduled military-to-military and economic dialogues with the United States.
The diplomatic and security dialogue – one of the two successors to the now-defunct US-China Strategic and Economic Dialogue – was also put off.
The reconvened meeting this week does not appear to have generated a way out of the current morass that Washington and Beijing find themselves in, but no one should have expected it to. Rather, it allowed both sides to exchange views at a very high level, even if those views might not necessarily be heard or understood any better than before.
For the United States, the dialogue provided an opportunity to underscore serious concern about Chinese attempts to seek influence within its borders. Pompeo and Mattis also raised "concerns about China's lack of adherence to its international obligations and commitments on human rights and religious freedom" in China's Xinjiang Uygur autonomous region.
Also, in what may be a first in a public statement, Mattis and Pompeo called on China to actively disarm the seven artificial islands it has built over the past five years in the Spratly group.
The Trump administration still hasn't come up with a new strategy to substitute what it inherited – and amplified – from the Obama administration. Freedom of navigation operations continue apace to assert navigational rights consistent with international law, but the problem of rolling back China's fait accompli in the Spratlys persists.
Earlier this year, at the Shangri-La Dialogue, Mattis highlighted Chinese militarisation activity in the South China Sea to those of us present, but stopped short of prescribing a course that Beijing could take to "fix" the problem.
The little good news came with a mutual recognition on both sides that the continuation of military-to-military dialogue between both sides could prove stabilising and prevent the breakout of a conflict that neither side may want. Issues where space for cooperation may be found, including Afghanistan and the Korean peninsula, were largely relegated further down the agenda.
But even with dialogue and exchange, the two sides didn't appear any closer to breaking through their mutual mistrust. Statements by the officials at their press conference following the dialogue illustrated this most clearly in the context of the South China Sea, where Washington and Beijing continue to have two separate understandings of freedom of navigation and militarisation.
Yang said China believed that "that no country should use any excuse to engage in militarisation in the region", while Mattis said the U.S. shared its "continued concern about China's activities and militarisation in the South China Sea". Similarly, the two sides remain as far apart as ever on the meaning of freedom of navigation.
Broadly, however, the big picture out of the latest diplomatic and security dialogue is that even as the US-China relationship begins to move explicitly embrace the "competition" that has long been simmering under the surface, they can still talk and share perspectives on their disagreements.
As Mattis said during his October encounter with Wei, competition need not entail hostility. The problem, however, is that persistent mistrust and an inability to bridge gaps can intensify the security dilemma between the two countries, thrusting them, tragically, towards a dangerous course that neither may actively seek.
This article originally appeared at the South China Morning Post. It is republished here with kind permission.