What's Behind the New India-Indonesia Navy Exercise?
A closer look at what a new drill means for the broader bilateral relationship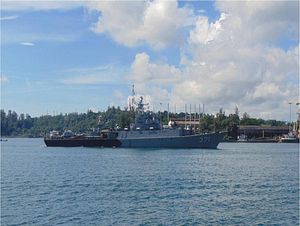 Earlier this month, India and Indonesia held the first iteration of a new naval exercise between the two countries. The interaction once again put the spotlight on the India-Indonesia defense relationship, which has been advancing in recent years as New Delhi seeks to further boost its ties with Southeast Asian states including in the security realm.
As I have noted before in these pages, India and Indonesia already have a defense relationship which comprises various elements, built out from the foundational defense agreement both inked in 2001 as well as individual inroads made since then. On the maritime side, the two countries, which share a maritime boundary, have been enhancing their maritime cooperation over the years. Today, the navies conduct navy to navy staff talks; participate in port visits and training exchanges; participate in the Indian Ocean Naval Symposium (IONS); and carry out coordinated patrols along the international maritime boundary.
But there have also been attempts made to boost bilateral defense in recent years still further, including in the maritime domain. In particular, the Indian government under Prime Minister Narendra Modi has seen Indonesia as a priority country in its wider effort to upgrade relations with Southeast Asian states as part of its so-called "Act-East Policy."
This was clearly demonstrated in Modi's visit to Indonesia in May this year ahead of his address at the Shangri-La Dialogue in Singapore (See: "Trump's Indo-Pacific Strategy Challenge in the Spotlight at 2018 Shangri-La Dialogue"). During that trip, as both he and President Joko "Jokowi" Widodo both agreed to elevate their ties to a comprehensive strategic partnership, there were also a number of maritime-related developments announced, including an agreement for India to develop the port of Sabang.
This week, the maritime aspect of ties was in the headlines again with the holding of a new navy exercise between the two countries. From November 12 to November 18, India and Indonesia held the inaugural edition of Exercise "Samudra Sakti" in Indonesia.
The exercise itself consisted of various phases. According to India's defense ministry, the harbor phase, held from November 12 to 15, featured planning and briefing on various activities, professional interactions, cross deck visits, sports fixtures and social interactions, while the sea phase, held from November 16 to 18, included operations such as joint maneuvers, helicopter operations, surface warfare exercise, anti-submarine warfare exercise and anti-piracy exercises.
The exercise involved participating assets from both sides. It included the INS Rana of the Eastern Fleet that arrived to participate in the exercise on the Indian side, as well as a corvette, helicopter, and maritime patrol aircraft on the Indonesian side, along with personnel as well.
The Indian defense ministry cast the engagement generally as fostering better ties between India and Indonesia and to ensure good order in the maritime domain. But its more specific implications for the bilateral defense relationship and the Indo-Pacific domain more generally are worth paying attention to as well amid a range of other developments in the rest of 2018 and onto 2019 as well.