Adrian Zenz on China's Xinjiang Re-Education Campaign
"Uyghurs are being intimidated to the extent that they won't even dream of disobeying the Party."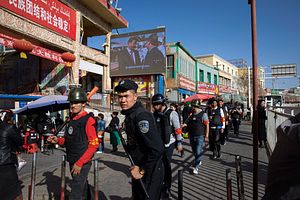 Over the past year, the world has become aware of the Chinese government's extralegal detention of hundreds of thousands of ethnic minority Muslims, especially Uyghurs, in China's far-western Xinjiang region. For "offenses" ranging from having family members living abroad to appearing too devoted to Islam – as determined by a Chinese Communist Party minder – Uyghurs can be forced to spend months in "re-education camps." Those who have returned from the camps and spoken to the media describe being forced to recite praises for the CCP and its top leader, Xi Jinping, and denounce their family members, friends, and religion.
Adrian Zenz, a lecturer in social research methods at the European School of Culture and Theology, Korntal, Germany, was one of the first researchers to provide an in-depth look at the system of re-education camps in Xinjiang. The Diplomat spoke with Zenz about the human rights crisis in Xinjiang and what China might have planned next.
What is China's goal with the re-education camps? What would Beijing's ideal outcome in Xinjiang look like?
Beijing's ideal outcome are Muslim minorities who are strongly assimilated, firstly in terms of ethnocultural identity, secondly in terms of ideological convictions. Minorities must be firmly integrated into the Han majority culture and language. They can maintain some of their "acceptable" cultural customs and speak their languages as long as they are also fluent in Chinese and culturally close to the mainstream.
Additionally, Beijing wants religious minorities to pledge primary allegiance to the Communist Party and its underlying ideology. Competing ideologies such as religions must only form a secondary part of the identity of a citizen of China. Superficial religious and other customs may be practiced as long as they are subservient to the tenets of the Party.
Finally, restive minorities such as the Uyghurs are being thoroughly intimidated to the extent that they won't even dream of disobeying the Party or engaging in even symbolic acts of resistance. The re-education camps are specifically designed to achieve all of these objectives with unprecedented intensity.