Artillery Drills Spotlights India-Singapore Military Ties
The two sides completed the latest iteration of their exercise amid a particularly active few weeks for defense ties.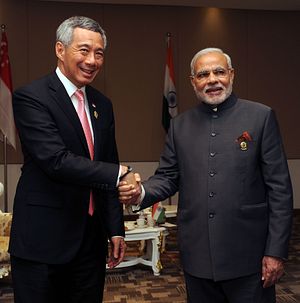 Last week, India and Singapore concluded the latest iteration of their bilateral artillery exercise. While this was just one of the interactions the sides currently have with each other, the drills spotlighted some of the ongoing activity in the security relationship amid wider regional and international developments.
As I have noted before in these pages, India and Singapore already enjoy a close defense relationship. Apart from the bilateral significance of the relationship, which includes not just exchanges, visits, and exercises but also opportunities for the Singapore military to train in India, India-Singapore security cooperation is also among the key relationships being watched as patterns of collaboration evolve in the wider Indo-Pacific as well.
This year, India continued to deepen ties with Southeast Asian states more broadly as part of its so-called Act East Policy as Singapore took on the annually rotating ASEAN chairmanship, which gives it more to do on the foreign policy stage. Indeed, as I noted before, we have in fact just come out of an active few weeks for India-Singapore defense ties, with the two sides conducting this year's iteration of the Singapore-India Maritime Bilateral Exercise (SIMBEX) from November 10 to 21 and the third iteration of the India-Singapore Defense Minister's Dialogue on November 20 in Visakhapatnam in India (See: "India-Singapore Relations and the Indo-Pacific: The Security Dimension").
One of the engagements that both sides held as part of that was Exercise Agni Warrior. The Singapore Army and Indian Army held the bilateral artillery exercise, which was first held back in 2004, from November 12 to December 1.
According to Singapore's defense ministry (MINDEF), this year's exercise, the eleventh in the series, involved 175 troops from the 23rd and 24th Battalions, Singapore Artillery, and 80 troops from the Indian Army. The exercise culminated in a joint live-firing involving the Singapore Armed Forces' Singapore Light Weight Howitzer, Field Artillery Meteorological System, and the Indian Army's 155mm Field Howitzer 77B.
Exercise Agni Warrior is expected to continue on in 2019 and beyond following the renewal of the Army Bilateral Agreement at the third India-Singapore Defense Ministers' Dialogue, which helps govern this aspect of defense ties between the two countries. The renewal of the bilateral agreement for the conduct of joint army training and exercises in India reinforced the value Singapore receives from India serving as one of several places where the land-starved city-state can train its military.