India to Hold Military Drills With Singapore Amid Navy Anniversary
Bilateral naval ties in the spotlight this week amid RSN50 celebrations.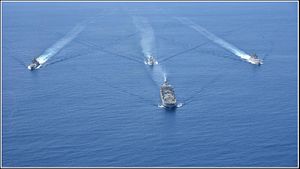 India and Singapore are set to hold another iteration of their annual naval drills this week amid a range of activities to commemorate the anniversary of the city-state's navy.
As I have noted previously, India and Singapore have a growing defense relationship. Apart from regular port visits and training, the two countries signed an upgraded Defense Cooperation Agreement (DCA) back in 2015 as they commemorated the 50th anniversary of their relationship that included a commitment to an annual defense ministers' dialogue (DMD) as well as deeper cooperation in maritime security and between their defense industries (See: "Singapore, India Hold First Ever Defense Ministers' Dialogue").
The naval dimension of that relationship was in the spotlight again this week as Indian Navy chief Admiral Sunil Lanba pays his first official visit to Singapore and the two countries are set to hold another iteration of their naval drills.
Lanba is on a five-day visit here he will attend a range of activities designed to commemorate the 50th anniversary of the Republic of Singapore Navy (RSN), including the International Maritime Review (IMR) and the International Maritime Defense Exhibition and Conference (IMDEX) 2017, where some Indian defense firms are also participating (See: "Foreign Warships to Join Singapore For First International Maritime Review").
But Lanba is also using his visit – the first by an Indian navy chief since Admiral RK Dhowan's visit in 2015 – as an opportunity to hold discussions with a number of Singaporean defense officials during his visit, including the defense minister, chief of defense forces, and navy chief. The Indian Navy said in a statement that the visit "aims to consolidate existing Maritime Cooperation initiatives as well as explore new avenues."
Upon his arrival, Lanba called on Singapore Navy Chief Admiral Lai Chung Hun, who had visited India last February. Both naval chiefs then joined Singapore President Tony Tan Keng Yam on board RSS Independence during the review.
Starting May 18, the two countries will hold the 24th iteration of their annual maritime bilateral exercise, the Singapore-Indian Maritime Bilateral Exercise (SIMBEX), which first began in 1994. As I have mentioned previously, like other drills of its ilk, SIMBEX has gradually grown in scope and complexity, beginning with an emphasis on anti-submarine warfare but then also including elements like maritime security and anti-air and anti-surface warfare.
According to the Indian Navy, during this year's SIMBEX the Indian side would feature an Indian Navy long range maritime patrol and anti-submarine warfare aircraft P-8I along with four Indian navy ships that are on an overseas deployment to Southeast Asia and the southern Indian Ocean – Sahyadri, Shivalik, Jyoti, and Kamorta.
As Sahyadri entered Singapore, India's ambassador to Singapore Jawad Ashraf, who was on board the ship, said on Twitter that India was "honored" to participate in the range of activities in Singapore, including the exercise.