Cambodia's Opposition Begins to Crack
After 2018's election, Cambodia's once united opposition veers toward a split.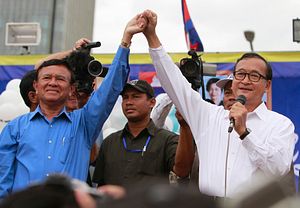 PHNOM PENH — Cambodia's merged opposition party teeters on the edge of a damaging split after its self-exiled former leader Sam Rainsy said that he had seized back the party leadership from his successor, Kem Sokha, until his onetime rival-cum-ally is released from house arrest.
The decision was announced at a December 1-2 meeting in the U.S. city of Atlanta attended only by the faction of the Cambodia National Rescue Party (CNRP) with roots in the former leader's Sam Rainsy Party (SRP), with those linked with Sokha's Human Rights Party (HRP) boycotting.
Rainsy has for months sparred with Sokha's faction about his successor's capacity to lead the CNRP while under house arrest in Phnom Penh and told Radio Free Asia at the close of the Atlanta meeting he felt compelled to temporarily retake the role "so that the party has a leader to lead it."
"Today is the day that our party resumes our operations with a clear and strong leadership," Rainsy said in the interview on December 2. "We will start making appropriate and timely decisions regarding CNRP strategies, tactics and action plans both within and outside of the country."
Under the terms of his release from prison, Sokha is not allowed to speak to the public, the media, or his former colleagues. But in a statement attributed to his lawyers and posted to his Facebook page the same day, he immediately rejected the legitimacy of the Atlanta meeting.
"Kem Sokha maintains his stance of not acknowledging and not supporting the organization of, or any decisions made during, the December 1-2 congress in Atlanta in the U.S.A. by the group of Sam Rainsy supporters," it said, also asserting Sokha's right to issue statements through lawyers.
Sokha's faction of the CNRP has since maintained that Rainsy's unilateral seizure of the presidency violated party bylaws. On December 3, Sokha's chief aide, Muth Chantha, posted to his own Facebook page an excerpt of the CNRP's bylaws stating only a party vice president — of which there are three — could act as its leader. He added that the decision had no standing as it was not approved by the party's standing committee.
"Those who joined the meeting have no eligibility to request or appoint the CNRP's acting leader under party bylaws," Chantha wrote. "Any decisions or requests made at the meeting are just the ideas of a group who cannot compel the standing committee to even consider or reply to them."
A statement on CNRP letterhead followed, quoting the 45th article of the party's bylaws, which governs party leadership. It said the party's official view was the announcement made by "the group of Sam Rainsy supporters…is in violation of CNRP bylaws and absolutely cannot be accepted."
Though divisions between Rainsy and Sokha have long bubbled under the surface within the CNRP, the dispute over Rainsy's forceful reseizure of the leadership is the worst public display of animosity between the two sides since the party's formation. It has many inside the CNRP worried.
"I don't see any outcome soon. It could be possible if there were discussions, but over the last year there have been none," said Prince Sisowath Thomico, who in 2013 became the highest-profile non-merger member of the CNRP after defecting from the declining royalist Funcinpec party.
He said the CNRP union had held together amid its differences thanks to the desire to win power in the 2018 national election. But it had become riven by its divisions since the government's forced dissolution of the party months before the vote appeared to throw its immediate future into doubt.
"There are two main things," Thomico said. "There is a kind of antagonism between Sam Rainsy and Kem Sokha. They both have their ambitions and followers — especially Kem Monovithya for her father, and Eng Chhay Eang for Sam Rainsy — and there is a personality problem there."
"The second is that we now do not have any strategies or common goals. So there cannot be any unity between the HRP and the SRP sides; there cannot be any cooperation until they agree on principle and strategy."
Over the past year, the CNRP has lobbied U.S. and EU leaders to leverage Cambodia's reliance on their generous tariff exemptions to pressure Hun Sen's regime to backtrack on the recent repression but tangible action has been slower to materialize than many party officials hoped.
But Rainsy and Sokha have appeared to clash since Sokha's September 2017 arrest, with Rainsy claiming his successor's stated views and decisions as party leader cannot be taken at face value while he is detained and at the mercy of Hun Sen's pressure (a claim Sokha has rejected).
Recriminations crested last month when Rainsy goaded Hun Sen into making a public bet that Sokha would not be released from house arrest until at least March 3 next year, a bizarre move seen by Sokha's faction as undermining international efforts to help secure his release.
Against public protestations from Sokha's family, lawyer, and aides, the former opposition leader has continued to maintain that Sokha, even while under house arrest, is not free to speak honestly. Rainsy insists that his successor in fact privately supports his strategies to help secure Sokha's release.
In a December 4 email, Rainsy reiterated that he believes Sokha supports his efforts but cannot say so while at the mercy of Hun Sen, attaching the resolution adopted at the Atlanta meeting with a section bolded stating: "Kem Sokha's opinions reflect his true will when he has received complete freedom and is able to express his opinions in public on his own."
"This is just the latest attempt by Hun Sen to break CNRP's unity," Rainsy said, arguing that it was Sokha's loyalists who were responsible for the divisions in the CNRP and that they were being tricked by Hun Sen.
"This time he can manipulate and confuse more people because he is using Kem Sokha as a hostage. However his psychological war against us will fail as before because, in fact, Sam Rainsy and Kem Sokha are as one. We are not stupid enough to split and to help Hun Sen cling to power."
But Rainsy's claims are all the more hard to believe given his long history of mutual recriminations with Sokha. The bad blood goes back to the 1990s, with Rainsy's faction as late as 2011 having accused Sokha of being a puppet of Hun Sen (the two leader agreed to merge their parties in July 2012).
Still Rainsy and Sokha had appeared to have put their public differences aside in the six years since the merger in pursuit of a victory against Hun Sen, who has long relied on politics of divide-and-conquer. The longtime Cambodian prime minister had never faced a unified opposition until the Rainsy-Sokha alliance was forged – and it nearly cost him the 2013 national election.
At the election only a year after the merger, the unified CNRP won a surprise 55 seats to the 68 won by Hun Sen's Cambodian People's Party (CPP) — a huge drop from the 90 won by the CPP in 2008. The CNRP then launched a rolling series of protests, which led to a 2014 deal for election reform, and set their eyes on the July 2018 national election.
But after fleeing arrest threats in November 2015, Rainsy resigned as CNRP leader in February 2017 to avoid the party being dissolved under controversial laws introduced by Hun Sen. Those laws were ultimately used to dissolve the CNRP under Sokha's leadership in November 2017, anyway. At the July 2018 election, Hun Sen's party "won" all 125 seats.
Kem Monovithya, the eldest daughter of Kem Sokha, has been based in Washington D.C. since her father's arrest in September 2017 to lobby the United States to sanction Hun Sen. She said Rainsy had long actively attempted to undermine her father's leadership and relished his time in house arrest.
"In his quest for relevance, Sam Rainsy's propaganda machine leads a campaign to undermine Kem Sokha's imprisonment and labels any advocacy initiative that is not led by him as an attempt to divide CNRP," Monovithya said, adding it already seemed clear the union between the two was doomed.
"This question is a little late. Sam Rainsy already dismissed Kem Sokha and Kem Sokha's side of the CNRP at this 'conference' today. It is a one sided event," she said. "He took [the] Kem Sokha side out of the equation already."
Rainsy founded the SRP in November 1995 as Cambodia's first opposition in the wake of his ouster as finance minister. But he had been criticized for running the eponymous party as a fiefdom where he led by decree and seemed unduly focused on attacking potential rivals as opposition leader.
By contrast, Sokha attempts to portray himself as a consultative leader who follows party processes — even if Cambodia's personality-driven politics usually sees followers quickly fall in line behind leaders. In this vein, the CNRP had tried to present an image of unity built around procedure.
The contrast has not been lost even in Rainsy-friendly Khmer-language media such as Radio Free Asia. Its high-profile host, Chun Chanboth, was at the Atlanta meeting, having fled to the United States amid arrest threats around the time that Sokha was arrested and the CNRP banned last year.
In a December 2 phone interview with a stand-in host, Chanboth said he too had been perplexed by Rainsy's faction of the CNRP appointing him as acting leader at an event rejected by the party's de jure leader.
"This is a good question and one I've asked a lot to CNRP leaders — the two CNRP vice presidents [in attendance] Mu Sochua and Eng Chhay Eang –and others: This decision during the meeting to make Sam Rainsy the acting president, on what basis does it stand?" Chanboth said.
"Their answer is that Cambodia is now under a dictatorial regime and the CNRP faces extreme difficulties," he said. Rainsy's loyalists felt the dramatic move was necessary, arguing the CNRP was not functioning without a strong leader as its vice presidents struggled to coordinate properly.
"If they meet together on Skype or WhatsApp, or any other method, they fear that their words can be grabbed and their internal discussions will be leaked," he explained. "So given they are in this difficult situation — in this ongoing situation — the national interest is bigger than party by-laws."
"This is a temporary situation in which the need for them to do anything to resolve the situation is bigger than the need to wait for all leaders to agree."
That justification was slammed by Sokha's faction as more evidence of an anti-democratic streak they say pervades Rainsy's approach and does not befit a party whose raison d'être is to replace an authoritarian system.
But even the most legally-minded among Rainsy's supporters have dismissed the criticism as missing the forest for the trees. Choung Choungy, a former SRP lawyer who has continued to represent the CNRP, said that it was not worth clutching to bylaws when faced with an existential crisis.
"In politics, you must talk about winning strategies. Find the strategy, then you can achieve victory. It's not about holding on to the rules and obsessing over infractions when the party has been dissolved already," Choungy said, before daring Sokha's followers to prove their worth without Rainsy.
"Cling to rules by starting a new party and being stronger than Sam Rainsy. I'll stop supporting Sam Rainsy and support you immediately."
Others in the party remain circumspect even in the face of such deep divisions. No matter how bitter the differences between Rainsy and Sokha's factions, Prince Thomico said, both still ultimately know that they cannot hope to unseat Hun Sen's 40-year-old authoritarian regime alone.
"There is only one thing that is sure: both sides agree that if they split, both sides will lose to the CPP," he said. "They all know this. But so far no one has taken any steps to try to resolve the problems."
Alex Willemyns is a freelance journalist based in Phnom Penh.