The Life and Near Death of Sam Rainsy
22 years after surviving a grenade attack, the popular opposition leader faces new questions about his role in politics.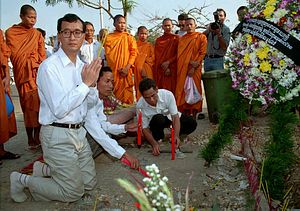 On March 30, 1997, four grenades were thrown into a crowd gathered in Phnom Penh to support rising political star Sam Rainsy. At least 16 people were killed and many more injured, including union activist Chea Vichea, who was later assassinated. Rainsy himself only survived the attack because his bodyguard shielded him from the blast.
Like most assaults on enemies of the government, the grenade attack has become an infamous example of impunity in Cambodia. But it has also been a symbol of Rainsy's commitment to the cause of democracy.
"I remember feeling unwell as I spoke to [the] crowd at the demonstration and I spoke for less time than intended," Rainsy recalled in a recent email. "The next speaker was a woman who had her baby with her who spoke about how she had lost her house to property speculators and had been told that she needed to bribe a judge to get it back. Then I remember the sound of the explosions and being pushed to the ground by my bodyguard Han Muny, who lost his life."
Rainsy claims he then saw the attackers flee toward the bodyguard unit, which closed ranks to block people from pursuing. A 1999 U.S. report on the attack for the Senate's Committee on Foreign Relations concluded that "Members of Hun Sen's Bodyguard Force participated in the planning and execution of the March 30, 1997 attack."
Despite this attack on his life, Rainsy continued his crusade for human rights and democracy, even as candidates in his party were gunned down in the streets.
"The act was so cruel, callous and barbaric that it made all of us determined to continue. No government ever really stamps out dissent through violence. The human spirit isn't made that way," Rainsy said.
Eventually Rainsy would form the Cambodia National Rescue Party with rival opposition leader Kem Sokha. The party posed the greatest threat to Prime Minister Hun Sen's 34-year rule, but was forcibly dissolved to prevent it from competing in the 2018 national election.
Sophal Ear, a Cambodian-American professor of diplomacy and world affairs at Occidental College, said from his early days, Rainsy "earned quite a reputation."
"He had a fire in his belly. He went out there and organized these protests that were attacked," Ear said.
Ou Virak, a leading Cambodian political analyst, said that Rainsy's legacy is one of unmatched popularity and influence.
"As of right now he remains the only really strong opposition leader, somebody that can actually galvanize and attract young Cambodian supporters," Virak said.
A constant danger to Hun Sen's grip on power, in 2015 Rainsy was hit with politically motivated criminal charges while traveling abroad. Despite pledges to return, he hasn't been back to Cambodia since. Although Rainsy remains immensely popular with Cambodians, his continued and extended absence raises questions.
While some journalists and political analysts – who have never taken the same risks – suggest that Rainsy is a coward, his record clearly shows otherwise. What's at stake, however, isn't Rainsy's historical record, but his future role in the opposition.
"I don't think anyone should martyr themselves," Ear said. "The conditions have to be right for Sam Rainsy's return. Returning now would be a fool's errand."
That being said, Rainsy has repeatedly pledged to return, most recently claiming he would be in Cambodia by Khmer New Year – a deadline that appears to have been abandoned.
Meanwhile, CNRP co-founder and president Kem Sokha is still under house arrest for treason, and the party has begun to split among familiar lines.
"I thought Kem Sokha's arrest was one move that actually put the Cambodian government on the backheel," Virak said. "There's finally international pressure, the world finally starts to pay attention to Cambodia."
All Rainsy needed to do was bide his time, but mistakes were made.
"Everyone knows he's not the second coming. This is a man, with all the flaws of being human," Ear said.
In the aftermath of Kem Sokha's arrest, Rainsy made a few puzzling decisions that have sowed division within the opposition and undermined his own position.
He made a public bet with Hun Sen over when Sokha would be released, a publicity stunt that came across as insensitive and understandably infuriated Sokha's supporters and legal team.
Rainsy also declared himself "acting president" of the CNRP, a decision that smacks of a desire for personal glory, especially given that Rainsy was already the de facto leader of the opposition movement.
"It was really, really unnecessary," Virak said.
Nobody was more critical of Rainsy than Kem Sokha's own daughter, who said Rainsy was "destructive to CNRP and himself." But while Sokha's allies become increasingly frustrated with Rainsy, many Cambodians remain loyal.
Recently, former adviser to Kem Sokha Lao Mong Hay called for a royal pardon for Rainsy and for him to be bestowed with the honorary title of "Samdech."*
"Who else has done more than Sam Rainsy?" Lao Mong Hay asked. "Who else has been physically attacked with hand grenades? Who else has been ever welcome and greeted by so huge a mass of people such as he was on 19 July 2013 when he returned from his exile?"
For some, the answer to the question of "Who else?" is Kem Sokha.
Rainsy's unwillingness to face prison like Sokha has drawn a sharp distinction for those who believe Rainsy is no longer prepared to make the necessary sacrifices to continue leading the opposition movement.
But Virak said this is all secondary to Rainsy's widespread support and role as an international statesman.
"The opposition supporters understand that Sam Rainsy is not willing to make the sacrifice but I think in their minds they don't think that's important," he said. "Cambodians are not ready for the man of the people. Cambodians are ready for the man of the international community."
*A previous version of this piece identified Lao Mong Hay as a CNRP adviser.
Andrew Nachemson is a freelance journalist based in Southeast Asia.