Serial Production of Russia's Su-57 Stealth Fighter Delayed Until at Least 2020
Russia will not buy the Su-57 in serial configuration before 2020, according to a Russian aviation industry source.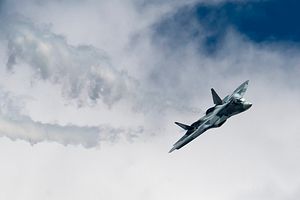 The Sukhoi Su-57 fighter aircraft, Russia's first purported indigenously designed and built fifth-generation stealth fighter jet, will not enter serial production before 2020, according to a Russian military aviation industry source.
"In 2020, we plan to sign the second contract to manufacture and deliver 13 Su-57 fighter jets, some of them equipped with the second-stage engines," the source was quoted as saying by TASS news agency in a January 16 report. "The preliminary time frame for the new contract is five years."
Two aircraft are expected to be delivered to the Russian Air Force in 2019 and 2020 respectively. "In line with the contract signed in 2018, one serial Su-57 jet with first-stage engines will be delivered to the [Russian] Aerospace Forces this year, the other aircraft featuring the same type of engine – in 2020," the source said.
Initially, Russia's Ministry of Defense (MoD) expected to sign a contract with United Aircraft Corporation (UAC), a major Russian aerospace and defense company, for the procurement of an initial pre-production batch of 12 Su-57s by the end of 2018. (Earlier reports that the MoD has signed a contract with UAC for such a pre-production batch of 12 Su-57 fighter jets in 2018 appear to have been false.)
The MoD also announced in 2018 that it will not mass-produce the Su-57.
There are currently 10 Su-57 prototypes undergoing various stages testing and evaluation. It remains unclear whether the Su-57 can genuinely be classified a fifth-generation fighter jet in its current configuration. For example, nine out of 10 Su-57 prototypes are equipped with a derivative of the Russian-made Saturn AL-41F1S engine, the AL-41F1, an older aircraft engine also installed on the Sukhoi Su-35S Flanker-E, and not with more advanced engines.
This is likely also one of the principal reasons for the multi-year delay of the Su-57 program."[T]he Russian military aviation industry still struggles with the aircraft's next-generation engine," I explained previously. "A new engine purportedly called the Saturn izdeliye 30 (purportedly featuring increased thrust and fuel efficiency and fitted with 3D thrust vectoring nozzles) is not expected to be ready for serial production until at least 2020."
The aircraft's sensor suite and other mission systems also continue to suffer from developmental issues. As I noted in December 2017:
The Su-57 will be capable of carrying some of Russia's most advanced weapons systems including new beyond-visual-range air-to-air missiles and air-to-ground missiles including the extended range Kh-35UE tactical cruise missile as well as the nuclear-capable BrahMos-A supersonic cruise missile.

However, the price for carrying such a heavy weapons load will likely be reduced stealth capabilities (…) Both the BrahMos-A and KH-35UE do not fit into the aircraft's internal weapon bay and consequently will need to be carried under the aircraft's wings in a transport launch canister, which will reduce the fighter jet's stealthiness.
Notably, the Su-57 also lacks other high-end low-observable design features. As such, it should not be compared with fifth-generation aircraft such as Lockheed Martin's F-22 Raptor.