Tajikistan 2020: What to Watch as Tajikistan Approaches an Election Year
It's a long way off to closely watch a likely predictable election, but here are some key things to keep tabs on.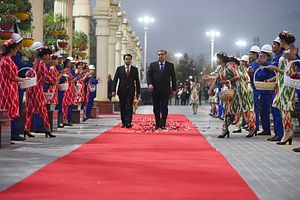 Tajikistan is scheduled to hold presidential and parliamentary elections sometime in 2020. No date has been set, and the outcome, at this juncture, is predictable: either another victory for 66-year-old President Emomali Rahmon or, if he's not feeling up to it, for his son Rustam, the mayor of Dushanbe or another close ally.
Are there other possibilities? Of course. But if history is any guide, the Rahmon family will do its damnedest to stay atop the pyramid in Tajikistan.
That said, there are several areas to watch over the course of the next year.
Beyond Rahmon himself, Rustam is a key person to track. The 31-year-old son of President Rahmon, Rustam Emomali has held a bevy of important-sounding positions from head of the Customs Service to head of the Anti-Corruption Service. In 2017, Rustam was appointed mayor of Dushanbe by his father, displacing Mahmadsaid Ubaidulloev, who had held the post since 1996. In 2016, a referendum on constitution amendments both cleared the way for Rahmon to run indefinitely and also reduced the age to run for the presidency from 35 to 30. Conveniently, by the end of 2020 Rustam will be just 33.
The same 2016 referendum also banned political parties based on religion — the umpteenth nail in the Islamic Renaissance Party of Tajikistan (IRPT)'s coffin.
Which brings us to the next key area to watch: the Tajik opposition. It is highly unlikely that a domestically-based opposition force would be allowed to seriously contest the presidency. The past is a firm example of this. In the run-up to the 2013 presidential election a coalition of opposition parties — including the Social Democratic Party  and the then-still-legal IRPT — jointly backed a candidate: Oinihol Bobonazarova, a secular, female, human rights activist. Bobonazarova narrowly missed gathering the required 210,000 signatures to register, a function of government interference her supporters said. Rahmon won with a reported 84 percent of the vote.
The opposition is in worse shape, at least domestically, than in 2013. The IRPT, after losing its only two parliamentary seats in early 2015, were by the end of the year blamed for the defection and short-lived mutiny of a deputy defense minister and declared an extremist group. The party's leaders who were in the country at the time were rounded up and packed off to prison, convicted in sham trials (after which their lawyers were also arrested and jailed).
In exile, however, the opposition remains active. In a recent interview with RFE/RL's Qishloq Ovozi (aka Bruce Pannier), IRPT leader Muhiddin Kabiri laid out his plans, and those of the National Alliance of Tajikistan, a union of four opposition parties created last year:
We are set to work in several directions. Work with our migrants so they do not fall under the influence of radical groups; build a constructive relationship with all governments and international organizations that are interested in a stable and democratic Tajikistan; set up members and supporters of the party and the National Alliance for a difficult, possibly long battle; and most important, that this battle should always be waged by peaceful means.
Note that Kabiri makes no mention of contesting elections. He knows as well as anyone that it's a fools errand in Tajikistan given present conditions. That "difficult, possibly long battle" is inevitable also one against time. Waiting for the right moment will be critical for Tajikistan's opposition. So too, will be the matter of unity. Kabiri's comments make clear that he does not assume that all opposition groups can untie under a single alliance, but that ought not hinder their cooperation. "A path to cooperation can be found even without a coalition, if there is a common goal and general vision of the future. That is what we are doing now with many groups and figures."
(Read the rest of the Qishloq Ovozi interview here).
An interesting early test case for the possibility of an outsider candidate in the 2020 election is the trajectory of Quvvatali Murodov, a retired doctor who reportedly is keen to run. As Farangis Najibullah and Mumin Ahmadi report for RFE/RL, "The sanity of Quvvatali Murodov, a retired doctor with no political affiliations but bold ambitions to challenge Rahmon in 2020, has been questioned after he said he wanted to 'end the politics of fear' in Tajikistan and suggested that the authorities drop restrictions that make it difficult to run for the presidency."
The mere hint of a contender, more than a year before the election, has brought out a personalized smear campaign. As RFE/RL reports, shortly after the 69-year-old stated his intention to run in an interview with RFE/RL's Tajik Service, Murodov was subject of a handful of op-eds run by the Center of the Strategical Studies "a think tank with official ties to the Tajik president's office."
As the saying goes, Murodov has a snowball's chance in hell of running for the presidency, let alone winning it. Why he's bothered is anyone's guess, and it's particularly interesting how RFE/RL notes that he said his family doesn't support him. "They are telling me not to run, because they're afraid," Murodov said, noting also that his four children told him they'd vote for Rahmon. Why Murodov is running isn't obvious, but why he stresses his family's non-support is that the Tajik state has an established habit of targeting the families of troublesome individuals.
In any case, given what we know now, Murodov's experience is illustrative of the hurdles any domestic opposition force faces at this point.
With the 2020 election more than a year away, there's only so much forecasting that can be done. But keeping an eye on the Rahmon family, the exiled opposition, and on the ground in Tajikistan for the budding of any domestic-based opposition forces are good places to start. Could 2020 be different? Probably not, but it's a long year ahead, and much could happen.