Turkey's Gülen Crackdown Comes to Cambodia
One of Cambodia's top international school systems has quietly changed hands amid the Gülen controversy.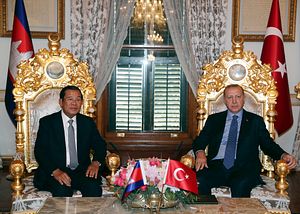 Zaman International Schools, flagged by Turkish officials for its alleged connections to the Fethullah Gülen movement, innocuously changed names and hands at the year's end, after Turkey promised to boost bilateral trade with Cambodia beyond $1 billion.
The international school system, which is one of the more established and most expensive in Cambodia, was recently bought in full by Chea Sophakanny, a Cambodian business owner with deep connections in the government. Both the grade school and university still go by Zaman on their website and Facebook page, but the registered name changed to Paragon as of November 13, according to Commerce Ministry records.
Sophakanny assumed full control over the school system at the end of 2018, after becoming the majority shareholder in 2016. She is the daughter of Cambodia's Land Minister Chea Sophara and wife of Eang Sophalleth, an adviser to Prime Minister Hun Sen. The school shares its new name — Paragon Education Co. Ltd. — with Sophakanny's collection of construction, property development, and mining services, Paragon Professional Services.
When contacted this week, Sophakanny and Paragon International University Rector Deth Sok Udom would not comment or clarify on the change in ownership, and instead pointed to a letter published at the end of December claiming the school has no association with any illegal organizations. However, reports from a Turkish education organization claim the restructuring aimed to dissolve alleged connections between the international school and a movement labeled a "terrorist organization" by the Turkish government.
According to the Turkish news outlet Hurriyet Daily News, the Turkish Maarif Foundation (TMV) — established by the Turkish government to monitor and gain control of Gülen-associated schools — visited Cambodia after top Cambodian officials traveled to Ankara in October. The Foundation allegedly warned Cambodian officials that the Zaman system had been connected to the cleric Fethullah Gülen, who has been accused by Ankara of leading a 2016 coup attempt (an accusation Gülen, who currently resides in the United States, has vehemently denied). Cambodian officials responded by stating that Turkish nationals have left the school, the news report claimed. Turkish Foreign Minister Mevlüt Çavuşoğlu simultaneously called for the extradition of three Turkish nationals residing in Cambodia, but neither the Cambodian foreign ministry nor immigration and international border departments would comment on this request.
The international school system, which was established in Phnom Penh in 1997, first came under fire for connections to Gülen in 2016, when then-Ambassador Ilhan Kemal Tug demanded its closure following a failed coup attempt in July of that year. At that time, the school fervently denied its association, stating in a press release that the founders followed the "spiritual movement" of Gülen, but they condemned the coup attempt that has been blamed upon the movement.
When visited this month, the Zaman company office on the city's south side was unoccupied. A person responding to the Zaman company public relations email declined to give their name but said they are no longer working for Zaman schools.
Turkey Grows Into Important Ally
A few weeks before Sophakanny registered the Paragon Education brand in November, Cambodian officials returned from Ankara with eight signed agreements to bolster education and culture between the two nations, and a heightened goal to build trade volume to $1 billion.
Hun Sen also reaffirmed plans to establish a Cambodian embassy in the Turkish capital, promising to buy land soon and open the office in 2019, as reported by government-aligned news outlet Fresh News. Phnom Penh has hosted a Turkish embassy since 2013.
However, the volume of trade between Cambodia and Turkey varies greatly depending on the source. Cambodia's Commerce Ministry reports a total trade volume of $28.8 million with Turkey in 2017 in most recent data, down from $33.4 million in 2015.
By contrast, the Turkish Foreign Ministry claims triple the bilateral trade, at $108 million in 2015, according to its website. Neither the Turkish embassy in Cambodia nor the Cambodian Commerce Ministry would explain the discrepancy. The Turkish foreign ministry also reports foreign direct investment in Cambodia of more than $13 million, and contributions of nearly $1 million toward development between 2004 and 2013.
Though the trade volume between nations is uncertain, Turkey is seen as a possible destination for Cambodia's export market as the European Union moves toward dissolving the nation's "Everything But Arms" preferential trade status over concerns about Hun Sen's moves to abolish political opposition. In pure volume, China ranks as the top bilateral trade partner with Cambodia, but EU countries remain the largest export market, receiving nearly $6 billion of exports in 2017.
Triggered By "Revolution"
Cambodia's willingness to comply with Turkish demands may stem from the governments' shared fear of revolt. In the midst of diplomatic meetings in October, Hun Sen compared the 2016 attempt to unseat Turkish President Recep Tayyip Erdoğan to a "color revolution" in Cambodia. That's the same charge Hun Sen slapped on the primary opposition party, the Cambodian National Rescue Party (CNRP), after its growing popularity in 2014 and 2017 elections. Hun Sen's government forced the CNRP to dissolve and has arrested its head, Kem Sokha, on charges of treason.
Zaman International School was founded by Turkish journalist Atilla Yusef Guleker in 1997, named Zaman — "era" in Turkish — after the newspaper for which he worked. Before the Turkish government soured toward the Gülen movement and Zaman alike, Turkey's former Deputy Prime Minister Bülent Arinç visited Phnom Penh to attend the university's inauguration in 2011.
Since its founding, the university has grown among the top degree programs in Cambodia, with partner universities around the globe and a relatively high tuition — between $1,000 and $2,000 per semester — to match. The international school system is one of two Cambodian schools recognized by the Council of International Schools, though it has not been accredited by the body.
Multiple professors and students did not respond to requests for comment, and one student who responded said he was not aware of any rumor or association between Zaman and Turkey.
However, Panha Sok, a Cambodian national studying political science at Istanbul University, said he could not "explicitly say" whether the international school was connected to Gülen or a coup, but he speculates that the Cambodian government made the move strategically given the mounting economic and political alliance.
"To have a better relation with Turkey, Cambodia has to follow some of Turkey foreign policy of eliminating the FETO group," Sok said via message, using a derisive abbreviation that the Turkish government gives to Gülen-associated schools.
Elsewhere, the Turkish Maarif Foundation has intervened in schools associated with Gülen in Pakistan and Afghanistan at the end of the year. A team of U.S. officials is simultaneously investigating Turkey's claims against Gülen, sending a delegation to meet with Turkish officials this week.
Danielle Keeton-Olsen is a freelance journalist currently based in Phnom Penh.