A First: Afghan Shipment Heads to India Via Iran's Chabahar Port
Afghan goods came to India through Iran's Chabahar port for the first time.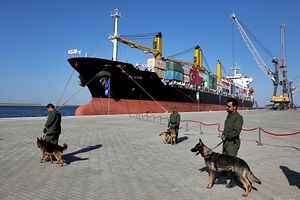 On Sunday, Afghanistan launched a new export route that will allow goods from the country to travel to India through Iran's Chabahar port. In 2018, Afghanistan exported $740 million in goods to India, its largest overseas export destination.
The Zaranj-Chabahar route allows Afghan goods to reach India without cross Pakistani territory. Pakistan's borders with both India and Afghanistan are tightly controlled, with minor land-based trade between the countries.
India has invested in the route's major port facilities at Chabahar and additionally helped develop a road—the Zaranj-Delaram highway—connecting Afghanistan's national Highway 1 to the Iranian border.
Zaranj is the final Afghan town near the Iran border crossing. The Zaranj-Delaram road turns into Iranian highway A-71 across the border, which runs westward to Zabol. From Zabol, Afghan freight can travel southward to Chabahar port by using national highways 99 and 95.
India has also supported the initial stages of a railroad connect Chabahar to the Iranian city of Zahedan.
After more than a decade of Indian interest in Chabahar, Indian Prime Minister Narendra Modi concluded a trilateral agreement to develop the port with his Afghan and Iranian counterparts in May 2016.
"Chabahar port is the result of healthy cooperation between India, Iran and Afghanistan this will ensure economic growth," Afghan President Ashraf Ghani said at the inauguration of the trade route on Sunday in Afghanistan's western Nimroz province.
Haroon Chakhansuri, a spokesperson for Ghani, said that Sunday's shipment marked the first end-to-end use of the trade route for Afghan exports. In 2017, 15,000 tons of Indian wheat, for the first time, used the Chabahar route to travel to Afghanistan.
"As part of the transit routes inaugurated by the Afghan government, the first shipment of Afghan export goods will head to Chabahar Port from Zaranj city through Abrisham Bridge and then to India. This is the first time that Afghanistan will be directly connected with India by using Chabahar Port," he said, according to Afghanistan's Tolo news agency.
In 2017, Afghanistan and India also moved to deepen their trading relationship through the establishment of an air corridor as well.
India continues to work to develop Chabahar to render it fully operational. According to Indian Union Minister Nitin Gadkari during a January 2019 meeting with Iranian Foreign Minister Javad Zarif, India seeks to fully operationalize the port this year.
Following a meeting between Ghani and Modi in September 2018, the Indian side noted that the two leaders had "expressed satisfaction over the increase in bilateral trade that has crossed the 1 billion U.S. dollars mark."