India Signs Contract For 2 Guided-Missile Frigates
India and Russia signed an inter-governmental agreement for two guided-missile frigates on January 30.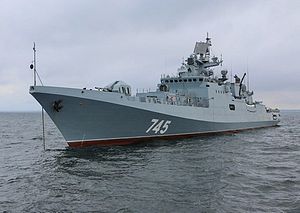 India and Russia signed a contract for the construction of two modified Admiral Grigorovich-class (Project 1135.6P/M) guided-missile frigates destined for service in the Indian Navy on January 30, the Indian Ministry of Defense (MoD) said in a statement.
Overall, India will procure four Project 1135.6P/M frigates under an inter-governmental agreement signed between India and New Russia in October 2016.
Two frigates will be constructed at Russia's Yantar shipyard in Kaliningrad on the Baltic coast, while the remaining two ships of the class will be assembled at India's state-owned Goa shipyard with technical support from Moscow. All four warships are expected to be delivered to the Indian Navy by 2026. Total acquisition costs for the four warships are estimated at around $1.9 billion.
The 3,620-ton Admiral Grigorovich-class is an upgraded variant of the six Talwar-class frigates that Russia built for the Indian Navy between 2003 and 2013. "The follow-on P 1135.6 series of frigates, customized to meet the Indian Navy's specific requirements, are potent platforms, with a mission span covering the entire spectrum of naval warfare; air, surface and sub-surface," the MoD said in its statement.
"The ships would be equipped to operate in littoral and blue waters; both as a single unit and as consorts of a naval task force. Advanced features of stealth include a special hull design, to limit radar cross-section, low electromagnetic, infrared and under water noise signatures. The ships would carry highly sophisticated and state-of-art weapon systems and sensors."
The frigates are reportedly capable of reaching top speeds of 30 knots and have an endurance of around 30 days.
The frigates will be armed with the BrahMos cruise missile system fired from an eight-cell 3S-14E under-deck launcher. The two-stage BrahMos missile — named after the Brahmaputra River in India and the Moskva River in Russia – is a derivative of the Russian-made P-800 Oniks over-the-horizon supersonic anti-ship cruise missile.
In July 2018, Indian defense firm Larsen & Toubro (L&T)  has also unveiled a quadruple canisterized inclined launcher for the BrahMos missile for Indian Navy surface warships.
The ships of the class will also carry vertical-launched 3M-54 Kalibr missiles. The 3M-54 Kalibr is Russian-made stand-off supersonic anti-ship cruise missile. Other armaments include a 100 millimeter A-190 naval cannon, 533 millimeter heavyweight torpedoes, and ant-submarine rockets. The frigates also feature a flight deck to carry a helicopter for anti-submarine warfare missions.
India will procure two M90FR gas turbine engines for the two frigates directly from Ukraine as a result of Kiev's decision to ban military exports to Russia in 2014.