India's Ministry of Defense Clears Procurement of Six New Attack Submarines
The Indian Navy's new attack subs are expected to enter service within the next decade.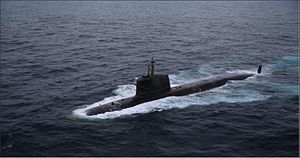 The Defense Acquisition Council, the Indian Ministry of Defense's (MoD) principal procurement body chaired by Defense Minister Nirmala Sitharaman, has approved the procurement of six diesel-electric attack submarines under the so-called Project-75 India (Project-75 I) on January 31.
The approval is the first move to revive the Project 75-I acquisition program which has been in the pipeline for over a decade and was first approved by the MoD in November 2007. "It basically amounts to revalidation of the acceptance of necessity (AON) first granted to P-75I over a decade ago," a MoD source was quoted as saying by The Economic Times on February 1.
The AON note is the first official step in procuring a new defense platform.
It will be the second project following the procurement of 111 armed light naval utility helicopters (NUH) and 24 naval multirole helicopters (NMRH), under the MoD's strategic partnership (SP) model under the framework of the Defense Procurement Procedure 2016. The principal aim behind the new guidelines is to facilitate the manufacturing of military hardware locally as part of Prime Minister Narendra Modi's "Make in India" policy.
"This is the second project under the MoD's ambitious Strategic Partnership (SP) model that… envisages indigenous manufacturing of major defence platforms by an Indian SP who will collaborate with a foreign OEM [original equipment manufacturer] to set up production facilities in the country", the Indian MoD said in a statement last week. "Today's DAC [Defence Acquisition Council] approval would be the second such (SP model) project following indigenous production of 111 naval utility helicopters that was approved in August 2018", it added.
The MoD awarded French shipbuilder Naval Group–formerly known as Direction des Constructions Navales Services — a $4.16 billion contract for the construction of six Scorpene-class (Kalvari-class) SSKs in partnership with Mumbai-based Mazagon Dock Limited (MDL) under Project 75-Is predecessor, dubbed Project-75, in 2005. The MoD originally intended procure an additional six Kalavari-class SSKs but abandoned plans in 2016.
Contenders for the new submarine contract will include Naval Group, Kockums (Sweden), Rubin Design Bureau (Russia), and Howaldtswerke-Deutsche Werft (Germany) following  a request for information (RFI) issued for P-75I in July 2017. The submarines are expected to be outfitted with air-independent propulsion (AIP) systems. Submarine types under consideration comprise SAAB-Kockum's A-26, Rubin's Amur-1650, Howaldtswerke-Deutsche Werft  Type 214, and (yet again) Naval Group's Scorpene SSK.
The total contract value is estimated at around $5.6 billion.
Meanwhile, India launched the third of six planned Scorpene-class (Kalvari-class) SSKs on January 31, 2018. The new sub will now undergo extensive harbor and sea trials before entering service with the Indian Navy sometime in 2019.