Japan Eyes a Diplomatic Upgrade
Foreign Minister Taro Kono told parliament that the country needs to overhaul its foreign ministry workforce.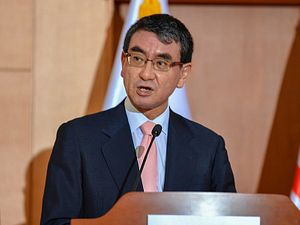 Japan has entered an era when its diplomatic capabilities are being tested and it needs to upgrade the skills and diversity of its foreign ministry workforce, according to Foreign Minister Taro Kono.
In a set-piece speech on foreign policy to the opening of parliament, Kono also said Tokyo needed to pursue more appointments of Japanese personnel to leading international organizations. While reaffirming Japan's foreign policy priorities, Kono devoted a large portion of his address to calling for reforms to enhance the foreign service and make it more family-friendly.
"Japan will never conduct diplomacy backed by military power," Kono said at the opening of the 198th Session of Japan's Diet on January 28. "On the other hand, the amount of official development assistance (ODA), which is a major pillar of Japan's diplomacy, has declined to around half of the peak level."
Elaborating on the challenge, Kono said: "We have entered an era when Japan's diplomatic capabilities based on wisdom and idea are tested. To enhance those true and raw diplomatic capabilities, it is essential to strengthen the foundation of diplomatic activities."
Japan was ranked third in the Lowy Institute's Asia Power Index, released last year, and it was seen as an overperformer when analyzed against the power it would be expected to wield given its available resources. However, given the demographic trends along with the expected distribution of economic and military resources in coming decades, Japan was projected to slip to sixth in the rankings by 2030.
To a large extent, the challenges facing Japan's foreign ministry are similar to those being tackled across the country's workforce more generally. These include the push to increase women's workforce participation and cut down on dangerously high levels of overtime.
Kono said women accounted for 30 percent of all staff at the foreign ministry, but this figure rose to about 50 percent among new recruits for next fiscal year. Meanwhile about 3,500 people work at Japanese diplomatic missions abroad.
"As the workload at the Ministry of Foreign Affairs is growing dramatically, overtime working hours for some staff are at a very serious level, as I stated on several occasions," he said, adding: "If this situation continues, it may become difficult for the ministry to attract talents."
In the workforce more generally, several high-profile cases of karoshi – a Japanese term meaning death from overwork – have spurred calls for reform. Last year a national law took effect limiting overtime to 100 hours a month in busy times of the year. Campaigners have said this still allows for dangerous levels of overwork. The heavy working culture that was fostered during Japan's post-war economic boom period remains deeply ingrained, according to experts.
Kono called for further efforts to develop systems enabling staff members to regularly spend time with their families and to use paid leave for childcare and holidays, "thereby achieving a sustainable family-work balance." He said he would "seek the understanding of the members of the legislative branch on this situation." Furthermore, he said, in a bid to ensure diversity at the ministry, "we also strive to develop an environment that enables people with disability to work actively by doing our utmost to promote recruiting of people with disability."
The foreign minister, who is fluent in English, also took aim at the quality of language training available in Japan. He said Japanese higher education had not necessarily been succeeding in enabling students to acquire a good command of English.
"This is an obstacle for Japanese people not only in working at international organizations but also in making active contributions on various occasions," Kono argued.
"The issue here is not the choice between speaking proper Japanese or English. We need both. It is an urgent task to fundamentally reform our English learning systems. We will cooperate with the Ministry of Education, Culture, Sports, Science, and Technology."
Finally, Kono indicated a desire to increase Japan's influence in multilateral organizations by boosting the number of Japanese nationals working at the United Nations and other international bodies. He described this as an "urgent task" and underlined the high level of funding that Japan provided to such organizations.
"Although we have made it clear to international organizations that Japan would like to increase the number of Japanese staff members and senior personnel to a level commensurate with its financial contributions, the number of Japanese applicants for posts at those organizations is insufficient in the first place," he said. Again, he said language skills were proving to be a barrier.
"Few young people pass the United Nations' employment screening exams due to insufficient English skills and the like, so employment through the Junior Professional Officer (JPO) program is about the only path to a post at United Nations organizations," Kono said.
"As a result, the number of young Japanese people who are employed by United Nations organizations is constrained by the size of the JPO budget. As a short-term solution, we will give Japanese students studying abroad better guidance regarding international organizations. We will resume dispatching national public employees to international organizations as JPOs."
As the Lowy Institute's Asia Power Index indicated, Japan's diplomatic network is extensive and is seen to produce results. However, Kono clearly believes there's much more work to be done to ensure Japan's foreign ministry is well-equipped to face the challenges of the coming decades.