Japan Ends 2019 With a Packed Diplomatic Schedule
Japan's flurry of diplomacy highlights its outreach to newer, more distant partners.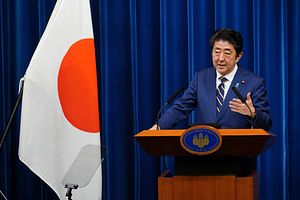 The end of the year has seen a flurry of diplomatic activity in Tokyo. What makes this November and December activity particularly noteworthy is how omni-directional it truly is, with steps taken or planned to improve Japan's relations with China, South Korea, India, Australia, the European Union (EU), and Iran.
Beginning with potential progress close at home, Japanese Prime Minister Shinzo Abe will visit China on December 23-25. There, Abe will hold three-way talks with Chinese and South Korean leaders. In announcing his visit, Abe said he would like the three-way talks to discuss "future-oriented cooperation" and address a host of regional and international issues; North Korea is likely to be at the top of the agenda. Bilateral summits may also be conducted. Of particular note will be the possibility of a summit between Abe and South Korean President Moon Jae-in, as tensions remain high in that bilateral relationship.
Abe's packed itinerary also includes a trip to India on December 15-17. Japan-India defense cooperation has long had a "will-they-or-won't-they" flavor to it. Though both parties are concerned about China's rise as a general concept, their specific concerns are too divergent to sustain concrete cooperation. Japan is most concerned about China's maritime gray zone activities and has a special interest in how Chinese actions in the South China Sea can set a precedent of international acquiescence for bad behavior in the East China Sea. Meanwhile, India's concerns about China are driven by its disputed land border with China, with the potential for clashes as the Doklam crisis highlighted. Japan has no interest in getting involved in a China-India border clash, just as India has remained relatively quiet in the ongoing South China Sea disputes.
In this context, the inaugural ministerial-level "two-plus-two" talk between Japan and India is both a breakthrough – Japan is only the second country after the U.S. with which India has held a ministerial-level "two-plus-two" dialogue – and more of the same. As is often the case, the right sound bites were produced – the joint statement concludes, "further strengthening of bilateral cooperation was in the mutual interest of both countries and would also help in furthering the cause of peace, security, and prosperity in the Indo-Pacific region" – but with limited progress made in terms of substantive next steps, at least that was reported to the media. The Press Trust of India news agency did report that deepening ties in the development of weapons and military hardware was discussed. But this has been an ongoing discussion since Japan lifted its arms exports ban in April 2014. So far talks on that front have not led to anything, and likely will not lead to anything unless India can provide some flexibility on its moribund "Make in India" tenets.
There is the possibility that Japan pushed India on joining the Regional Comprehensive Economic Partnership (RCEP) and more details of a Japan-India Acquisition and Cross-Servicing Agreement (ACSA) were ironed out. With the annual summit meeting between Abe and Indian Prime Minister Narenda Modi coming up later this month, if any progress was made, the announcement may come then.
Cooperation with Australia has also been stepped up, with an announcement during Australian Defense Minister Linda Reynolds' visit to Tokyo last month that the Bushido Guardian exercise would become a regular bilateral exercise, Japan would become a regular participant in Australia's biennial Pitch Black exercise, a liaison officer from the Australian army would be stationed in the Japan Ground Self-Defense Force, and a new program would be designed to improve exchanges between Japan's Acquisition, Technology, and Logistics Agency (ATLA) and Australia's Defense Science and Technology Group. The creation of a new program to coordinate with the Defense Science and Technology Group is particularly interesting. Even though ATLA was born with much fanfare in October 2015, it has not had many high-profile successes in the four years of its existence. Perhaps institutionalizing relationships with foreign counterparts is the way to forestall more embarrassments like the failure to win the submarine contract with Canberra.
Further afield, Abe is also trying to cultivate ties with the EU. On Monday, Abe congratulated the new European Commission President Ursula von der Leyen. In the phone call, von der Leyen promised to make efforts to further strengthen EU-Japan relations, including on the security front. What exactly this looks like, given the EU and Japan's minimal capabilities and geographic distance from each other, remains an open question. The one area where geographically distant partners can make meaningful contributions to each other's security is through technology transfers and arms sales, but while Japan would be eager to cooperate with European countries on such issues, there is not much that the EU can promise on behalf of its constituent member-states.
And finally, Abe met with Iranian Deputy Foreign Minister Seyyed Abbas Araghich in Tokyo on December 3. At that meeting, the possibility for a December visit to Tokyo by Iranian President Hassan Rouhani was raised. If this visit materializes, Rouhani will be the first Iranian president to visit Japan since Mohammad Khatami in October 2000. Iran wants Japan to help calm the situation in the Middle East, a role Abe has been trying to play since tensions flared between the United States and Iran over the summer. As an energy-importing country, Japan has a lot at stake, and Abe wants to capitalize on Japan's historically good relations with Iran to mediate a U.S.-Iran resolution.
Japan's outreach to non-U.S. partners is nothing new. It is a trend that has been driven by China's relative rise and the United States' relative decline for over a decade now. But between the revelation of the United States' blatantly quid pro quo behavior toward its partners and U.S. President Donald Trump's insulting of allies at the NATO summit, it is no wonder that Japan is hastening to mend frayed ties with its closest neighbors and strengthen newer, more distant relationships.