Japan's Supreme Court Upholds Surgery as Necessary Step for Official Gender Change
A law forcing transgender people to remove their reproductive organs before registering a gender change comes under fire.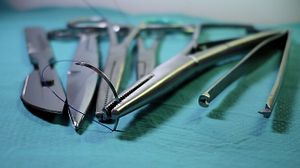 Japan's Supreme Court has dismissed a case challenging a law forcing transgender people to undergo full sex change surgery before having their gender legally registered. A four-judge panel unanimously determined the surgical requirement as "currently constitutional" despite outrage from human rights and LGBT activists calling it a step backwards in the fight toward equality. The court justified the decision as a way to avoid sudden disruptions in a society that still values gender on the basis of biology.
The 2004 law on gender identity disorders lays down that transgender people must have their original reproductive organs removed and replaced with genital organs resembling the gender they want to register with. The trial was brought on by transgender man Takakito Usui, 45, who wished to change his gender on his family register to male without undergoing an invasive sex change surgery. He argued that the law violated Article 13 of the constitution, which upholds the right to self-determination and the right to pursue happiness, and Article 14, which enshrines equality. Usui argued that gender is determined by the mind and should not be limited to biological reproductive organs.
In Japan, there are over 7,800 people who have changed their gender identity. But there are still many who receive hormone treatment but stop short of reproductive organ and genital reconstruction surgery. Such surgery carries the risk of permanent infertility as well as the risk of injury inherent to all major surgical procedures, and many of Japan's transgender population would prefer to avoid it.
Some prefectures have gradually adopted same sex partnership recognition certificates, making it easier for same sex couples to find housing and giving rights as next of kin. However, Usui stressed that he wants to marry his partner as a man and not within a same sex partnership. He hopes to one day change his family name to the same one as his wife and children and be publicly recognized as a family.
The World Health Organization has officially condemned the surgical requirement and declared that a country should allow official gender changes without any surgery. The European Human Rights Court also made a similar judgement in 2017.
Human Rights Watch denounced the Supreme Court ruling, calling it "incompatible with international human rights standards, against the times, and deviating from best global practices." They slammed the ruling as permitting serious human rights violations against transgender people.
Usui's lawyer, Tomoyasu Oyama, expressed his shock to AFP, saying he couldn't believe a law forcing surgery and effectively sterilization still exists in this day and age. Oyama also stated that since the start of legal proceedings two years ago, they have seen an improved social understanding of the issue.
The case, which began in a family court in Okayama, west Japan in 2016, was rejected on appeal by the Supreme Court. The court chalked up the ruling to reducing confusion between parents and child relationships as well as between families and society. However, two judges recognized elements of the law that restrict personal liberties, given that people are forced to undergo surgery to change their registered sex, and mentioned "doubts" over whether it accurately reflects societal values.
The court's decision aimed to strike a balance between individual rights and the status quo. But the panel also recommended that a constant review of changes in societal and family views is necessary — opening up hopes for change in the future.