South Korean Conservatives: What Now?
Can South Korea's once-strong right recover from damaging scandals and infighting?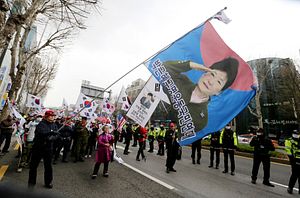 The conservatives ruled in South Korea from 2008-2017. And then the bottom fell out.
Both presidents during this near decade – Lee Myung-bak and Park Geun-hye – are currently in jail on various corruption charges. Before being handed a 24-year prison sentence, Park was impeached, the first time that had ever happened in South Korea's political history. Suffice to say, the conservatives are not popular today. What happened to Korea's conservatives and how might they fix the mess they find themselves in?
At the beginning of 2016, things weren't so bad. The approval rating for the main conservative party – then Saenuri – sat at 40 percent, according to Gallup Korea. This is not notably high, but it isn't surprisingly low either (the current ruling party of Moon Jae-in, the Minjoo or Democratic Party, had an identical approval rating as of the second week of February, according to Gallup). However, by the end of 2016 Saenuri's approval would slip more than 20 percentage points to 15 percent before dropping even further as the party imploded.
The collapse of conservative rule began in December 2016 when the ruling Saenuri Party, fractured by the impeachment of then-President Park Geun-hye, split. Those belonging to the "anti-Park" faction and most supportive of impeachment would go on to form the Bareun Party (literally the "Righteous Party"), a center-right party led by Yoo Seung-min. Many of those who stayed on would still support Park's impeachment, but the factionalism that had been kept bottled up spilled out into the open. Saenuri then rebranded itself (not an uncommon practice for South Korean political parties) as Liberty Party Korea.
The impeachment and removal of Park Geun-hye, coupled with the split of the Saenuri Party, delegitimized conservatism as a viable political identification for many. Little recovery was made under Hong Joon-pyo, who ran as the main conservative presidential candidate in the 2017 special election. Describing himself as "Hong Trump," Hong fashioned himself as a no-nonsense strongman politician, not dissimilar to former dictator Park Chung-hee (Park Geun-hye's father). Hong's campaign was meant to mobilize the conservative base and promoted the idea that Moon Jae-in was a "pro-North" communist sympathizer; it was a platform taken from a Cold War-era playbook. Moon resoundingly defeated Hong by 17 percentage points (41-24 percent). It was the largest margin of victory in the democratic era. It's easy to imagine an even more lopsided victory without two centrist candidates taking 28 percent of the total vote (Yoo Seung-min for the splinter, center-right party secured 6.7 percent and Ahn Cheol-soo of the center-left People's Party took 21.4 percent).