Turkmenistan: More Cuts and Bad Business
Ashgabat is still trying to cut expenses wherever it can, and even foreign companies are feeling the pinch.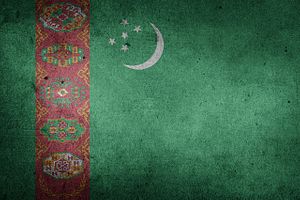 As big projects in Turkmenistan move ahead (in theory, that is), the government continues to look for places to trim the budget. In a January 30 decree, President Gurbanguly Berdymukhammedov said the country would seek to privatize much of the state-owned transport system and gradually end funding for the country's Academy of Sciences.
The decree, published in the government daily Neutral Turkmenistan, says government funding for the Academy will be phased out in three years. It also envisages streamlining the Academy, a structure that includes various research institutions.
Meanwhile, the Turkmen Justice Ministry has been given three months to put forward legislation to privatize the transport sector. As RFE/RL noted, Berdymukhammedov didn't indicate whether foreign companies would be able to invest.
Foreign companies have occasionally run into difficulties in Turkmenistan; at the same time the Turkmen market, lucrative for its untapped nature, remains appealing for those willing to take a risk. Trouble has come in various forms. For example, some companies engaged in Turkmenistan's myriad construction projects have had to stop operations over nonpayment issues. Last summer, Reuters reported that Cakiroglu Grup, a Turkish metals and construction company, had stopped its operations in Turkmenistan. A board member, Oguzhan Cakiroglu, told Reuters, "We have pending payments of around a few million dollars, but we have been waiting for 4-5 years for this payment… So we've stopped operating completely in Turkmenistan." Another Turkish construction company, Polimeks, stopped work on a highway from the Turkmen capital, Ashgabat, to the Caspian Sea, reportedly over nonpayment.
In other cases, such as that of MTS, the trouble is not nonpayment, but about access and profit. MTS, a Russian telecommunications company, entered the Turkmen market in 2005 by buying out an American company, BCTI, which had a small presence in the country. After negotiations, the Turkmen government and MTS settled on a deal: MTS would share 20 percent of its profits with the Turkmen government. As MTS expanded its operations in Turkmenistan, it eclipsed the state-owned telecom Turkmentelecom (more specifically its mobile branch Altyn Asyr), leading to trouble. In 2010, the Turkmen Communications Ministry suspended BCTI's license and therefore MTS' operations. Two years and an international arbitration case later, MTS' operations restarted under a new profit-sharing agreement, set at 30 percent and, as a source close to MTS told The Diplomat earlier this month, that profit was no longer to be shared with the government, but Turkmentelecom, MTS's de facto competition.
Another five years later, in 2017, the licenses were coming  up for renewal again and nearly the same thing happened: the state essentially prevented MTS from operating the licenses and tried to negotiate again. The source categorized the Turkmen side's initial terms as "entirely unacceptable… to the point where MTS would essentially be left with no profit at all."
The source noted that one of the main difficulties has been a lack of communication on the part of the Turkmen side. The Turkmen side, they said, had not responded to any negotiation overtures, so MTS turned to litigation again. "The company is quite disappointed that they seem to have no counterpart in Turkmenistan to talk to," the source said, going on to describe MTS officials showing up to talk to the appropriate authorities in Turkmenistan, only to have them slip out the back door and avoid the meeting. The source noted that to their knowledge, "the Turkmen side has not been responding roughly since the summer [of] 2018."
The Turkmen government essentially leaning on MTS for a bigger share of its profits fits neatly into the overall image of Turkmenistan as a country with serious financial troubles. This year, Turkmen citizens are paying for natural gas, electricity, and water for the first time after the state abolished subsidies that had been in place for a quarter-century. The recent decree cutting funding for the Academy of Sciences very much looks like Ashgabat cutting where it can still manage to cut.
Meanwhile, the mega-projects continue. Earlier this week, Eurasianet reported on the start of construction on a $2.3 billion, eight-lane highway from Ashgabat to Turkmenabat, near the Uzbek border. Privatizing the transport sector could be an effort to encourage investment, though as noted above it's unclear whether foreign companies are the target audience; or alternatively, it could be a mask to extract more from the trucks Turkmenistan hopes will one day rumble down its new highways (and through toll booths, too, of course).
With reporting from the Associated Press.