Bread and Circuses in Ashgabat
Can a multi-billion dollar sporting event prove Turkmenistan's modernity despite the country's reputation for corruption?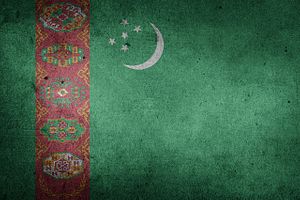 In Turkmenistan, an old proverb states that a Turkmen's home was "wherever his horse happened to stand." Recently, however, Turkmen homes have been demolished to make room for a horse of a different kind, the fifth Asian Indoor and Martial Art Games, fittingly represented by a stallion in its logo.
The ten-day spectacle, which kicked off September 17, features competitions between 5,000 athletes from over 62 countries, in sports as diverse as Uzbek Kurash wrestling and Viennese Waltz.
Though the Asian Games are more modest than the Olympics, Turkmenistan's government has spent over $5 billion in preparation, a half billion more than the cost of the 2016 Summer Olympics in Brazil, to prove that it, too, can join the trend. The official website states the aim of shaping "the world's perception" of the Central Asian republic as a "modern country," but will the event be able to successfully repackage Turkmenistan in a positive light?
Ashgabat's Potemkin Village Expands

The 2017 Asian Indoor and Martial Arts Games are the first of its kind in Central Asia as well as for Turkmenistan, a closed society known for thriving clan loyalties, a strong personality cult, and a poor human rights record.
Though beautification projects are not new to Ashgabat, the capital, where an eccentric playground of marble monuments has broken various Guinness World Records, the size and scale of the games are unprecedented. Numerous additions to Ashgabat's existing Potemkin Village have recently sprouted up around the city, including a brand new $2.3 billion falcon-shaped airport, allegedly sinking into the sand, and a grandiose sports complex replete with hotels and stadiums intended to stun what is likely Turkmenistan's largest simultaneous visitor count.
No More Bread, Only Circus
It seems that President Gurbanguly Berdymukhamedov hopes the Games will give a boost to patriotism, especially amidst high unemployment and the recent revocation of government benefits, such as free electricity, water and gas. Much is left to speculation, however, due to the government's scant release of information and tight controls on press freedom.
Besides a display of modernity, the event could lure foreign investors, quelling anxiety over recent economic downturn amidst the budget's high reliance on natural gas. Though Turkmenistan is home to the world's fourth largest gas reserves, low oil prices, limited possibilities for export diversification, and the loss of gas exports to Russia and Iran have stressed the severity of strengthening non-oil sectors.
Given the poor state of the economy, hosting a mammoth and costly event seems like a blunder. Yet Berdymukhamedov has determined the risk is worth the reward, and the question will be whether he can succeed at securing the goal he is aiming for.
Emerging Nations Step Up to the Plate
Increasingly, non-Western countries are using mega-events to galvanize national pride, advertise business potential, and achieve political objectives. Unfazed by high costs, their governments see hosting competitions as an opportunity to exhibit strength and technological prowess. Recent examples include the Olympics in Beijing, in 2008 and again in 2022, and Sochi, in 2014. South Africa held the 2010 FIFA World Cup, and Russia and Qatar will do the same in 2018 and 2022 respectively.
Given that sporting events are often posited as apolitical, they can still serve as unofficial channels to exert soft power and trumpet investment opportunities. Undemocratic leaders in particular have found such events a convenient medium to push certain agendas, as they can often afford to allocate large funding with limited oversight.
In addition, the bedlam surrounding event preparation is appealing, as it can create a sort of lawlessness during which the veil of "extenuating circumstances" can be used to justify heightened securitization and unregulated surveillance.
In Eurasia, Russia and Azerbaijan have also staged massive competitions at steep prices, events that have caused uproar from international human rights and democracy advocates. Still, the maelstrom of criticism has clouded discussion of whether or not these mega-events ultimately enabled their governments to achieve intended goals, a helpful benchmark for prospects in Turkmenistan.
For Russian President Vladimir Putin and Azerbaijani President Ilham Aliyev, hosting spectacles seems to have both helped and hindered the pursuit of certain objectives.
Putin likely saw the 2014 Sochi Winter Olympics as a means to reinforce sovereignty and stability while asserting Russia's place in Europe. Though the event's heightened security likely equipped him with the mechanisms to annex Crimea shortly after, exposure under a protracted spotlight perhaps brought more attention to corruption, human rights, and the compound's construction shortfalls.
"Instead of providing an attractive façade for the country," Robert Orttung writes, "the Olympics simply made the problems surrounding the nature of Russia's regime apparent to the world." According to a Pew Research Survey, the games did not improve the world's view of Russia by 2015.
Azerbaijan, too, has used lavish events to showcase its modernity. In the past few years, Baku became home to image-building competitions such as the European Games and the Islamic Solidarity Games. Its streets also served as the track for the 2017 Formula 1 race, driving home Aliyev's point that visitors "will see not only the city circuit, but also a developed city."
While some say these spectacles did more to highlight issues of corruption and human rights abuses than Baku's downtown, they may have succeeded at advertising Azerbaijan's business potential. Ahead of the Formula 1 race, the race's chief executive explained that such criticisms were moot to staging the event: "As far as we are concerned, not having any races where there is corruption in the country, can you tell me where we are going to be racing?"
Similarly, human rights violations surrounding Turkmenistan's Asian Games may not scare off foreign business, as evidenced by ongoing Western gas deals with both Russia and Azerbaijan.
Still, no matter how good a show it is, economic factors in Ashgabat remain a threat to attracting investment. Beyond restrictions to trade liberalization and privatization, corruption and limited transparency present hurdles for doing business. Until these issues are addressed, Berdymukhamedov might face a challenge at winning his badge of honor.
Rebeka Foley is an analyst on Eurasia with an M.A. in Russian and Eurasian Studies from the European University at St. Petersburg. She focuses primarily on politics and energy dynamics in Central Asia and the Caucasus.