Ananth Krishnan on India-China Ties in an Era of Superpower Competition
An Indian journalist based in China for 9 years shares his impressions of the two countries's relationship.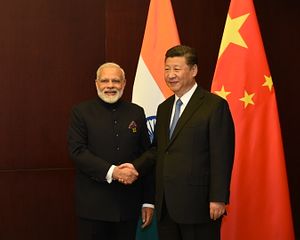 Ananth Krishnan is a Visiting Fellow at Brookings India, prior to which he was a China-based journalist for major Indian magazine India Today. Krishnan spent nine years reporting out of China for Indian audiences. The Diplomat's senior editor, Ankit Panda, asked Krishnan to share his views on recent developments in the India-China relationship in an exchange over email.
The Diplomat: After the acrimonious Doklam standoff in 2017, China and India sought to heal the damage done to bilateral ties with a meeting in April 2018 at Wuhan. You reported at the time that a senior Chinese official described the objective of that summit as a "new starting point" for bilateral ties. Did that work out? How much of the momentum leading up to Wuhan was driven by growing Chinese concerns about the trajectory of the United States, which had months earlier identified China as a strategic competitor in its National Security Strategy?
Ananth Krishnan: The Wuhan summit hasn't entirely achieved the stated objectives. That is partly because the stated objectives, to begin with, weren't all that realistic. The summit was perhaps oversold by both sides, described by Chinese officials as "a new starting point," and by some Indian officials, quoted in the media, as a "reset." That set unrealistic expectations.
For India and China, a "reset" was always going to be out of the question because of the importance of legacy historical issues, such as the unresolved boundary, which are never going to go away. The challenge still remains how best to manage them. What Wuhan did achieve was a much-needed course correction.
For this, I believe it was a worthwhile exercise, halting the alarming slide in relations that culminated in the 72-day border stand-off at Doklam. It's often forgotten that the idea for an "informal summit" came before Doklam, proposed by Narendra Modi in Astana. That the Wuhan summit still went ahead despite this unexpected rupture in relations underlined to me how both sides saw the value in going through with it. And this is especially the case for China's government, which had the far-from-easy task of explaining to its domestic audience a rather remarkable U-turn, months after directing an unprecedented anti-India propaganda campaign.
But whether the Wuhan model works in the long-run remains to be seen. The immediate challenge facing the second summit, set for this year, is the political uncertainty from the upcoming elections in India. Beyond that, both sides need to demonstrate deliverables from what's been called their "Wuhan consensus." Whether on trade — where China has promised to address the imbalance by increasing imports, particularly in the pharmaceuticals sector — or in working together on infrastructure projects in third countries, there still hasn't been headway.
Do you think that, given the remarkable press coverage in China, the Doklam standoff contributed significantly to the deterioration of how ordinary Chinese think of India and the border dispute with India? 
Getting a sense of Chinese public opinion towards India is always a difficult exercise in the absence of rigorous polling and a free press. During Doklam, however, I did get a sense in Beijing, where I was living at the time, that the propaganda campaign of July and August 2017 whipped up nationalist sentiment and contributed adversely to public opinion.
I heard from several Indian companies based in China that it also adversely impacted the business environment and brought a temporary freeze in many aspects of economic and cultural engagement. My sense is this was, however, transient, and I don't see a lasting impact. In fact, one of the under-appreciated outcomes of the Wuhan summit was in ending this freeze and sending a signal to the entire Chinese system that it was okay to do business with India again.
And despite the heated rhetoric, the Doklam campaign didn't reach the heights of the anti-Japanese protests of 2012. India does get a lot of stick from Chinese 'netizens,' but the historical issues are nowhere near as emotive as with Japan. If we consider the reception of Indian films as one barometer, Doklam didn't seem to have much of an impact. It did delay the China release of Aamir Khan's film Secret Superstar, but when it did come to cinemas, the film went on to become the second-highest grossing non-Hollywood foreign film in China's box office history. The film that holds that distinction, incidentally, is another Aamir Khan film, Dangal, which released a month before the stand-off happened.
What do you see as the more promising areas for progress in the India-China relationship today? 
There is a lot of potential in trade and investment front that remains untapped. For two economies the size of China and India, there is remarkably little in the way of close engagement or interdependence of the kind we see between China and the U.S., Europe, or even Japan. It's still largely a buy-sell relationship, and one dominated by China. One area where that's beginning to change is the tech space.
China is now emerging as one of the biggest investors in Indian start-ups, and closing the gap with the U.S. and Japan. Companies like Alibaba and Tencent are now major shareholders in many of India's biggest start-ups. Their sharing of technological expertise is also helping them scale-up. This influx of Chinese capital — close to $10 billion, by some estimates — could change the nature of economic engagement by making China more invested in the Indian market, although it does also pose regulatory challenges that the Indian government needs to address.
We're witnessing a deterioration in Sino-American ties now, two years into the Trump administration. At the same time, the positive momentum in U.S.-India ties has largely carried over from the Obama years. Do you see New Delhi retaining its historic freedom of maneuver toward China or increasingly banding with the United States? 
I don't see Delhi reducing its freedom to maneuver. The two summits in Wuhan and Sochi [in Russia] were partly aimed at preserving this maneuvering space. "Strategic autonomy" appears to be the current phrase of choice in Delhi. Considering India's close historical defense relations with Russia as well, it is difficult to see that changing dramatically. At the same time, the other phrase of choice for the Modi government has been describing India as "multialigned" rather than nonaligned, suggesting less caution in deepening closer relations with the U.S., Japan and others. The recent security pacts with the U.S., the scaling up of Exercise Malabar, and India's intent to widen its footprint in the Indo-Pacific are some examples of this. So one would expect this balancing act to continue, rather than any dramatic shift towards one power.
China's incarceration of as many as 1 million — possibly more — ethnic  Uyghurs in re-education camps in the Xinjiang Autonomous Uyghur Region has gained prominence since 2017. Is this something any Indian government may ever take up publicly or will New Delhi prefer to steer clear of the issue altogether? 
India has historically been careful when it comes to taking a position on China's internal issues for various reasons. One, of course, is the legacy of the Tibet question as a sensitive factor in the bilateral relationship. There is also the legacy of "noninterference in internal affairs," one of the tenets of "Panchsheel," or "five principles of peaceful co-existence," initially championed by Nehru and subsequently followed as a norm. Another possible concern is Chinese interference in India's affairs in Jammu and Kashmir. So I would expect the general norm of not commenting on either Tibet or Xinjiang to continue. At the same time, this is by no means set in stone.
For instance, India has since around 2010 stopped affirming the "One China" policy in its joint statements, long insisted by Beijing particularly because of its sensitivities on Tibet with regard to India. This coincided with China issuing stapled visas to Indians from Jammu and Kashmir, and subsequently stepping up Chinese investments in Pakistan-occupied Kashmir. The message from India, although a largely symbolic one, was that respect for sovereignty and noninterference couldn't be one-sided, and that these norms could be revisited at any time.