China-El Salvador Relationship Wobbles
El Salvador President-elect Nayib Bukele criticized China publicly amid his U.S. visit.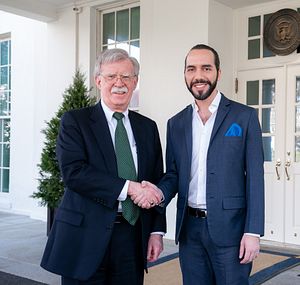 Only seven months after China and the Republic of El Salvador established diplomatic ties, the relationship between the two nations has reached a turning point. Amid his trip to the United States, El Salvador's President-elect Nayib Bukele — a 37-year-old who won the presidency in early February in the first round of voting and thus brought an end to three decades of two-party rule in the country — publicly criticized China. Bukele even said that he has not decided whether to keep relations with China.
"China does not play by the rules; they do not respect the rules," Bukele said on March 13 at the Washington-based Heritage Foundation. "They develop projects that are not feasible, leaving countries with huge debt that cannot be paid back and use that as financial leverage."
"They are not a democracy, but they intervene in your democracy," he added.
"We want to be friends with China, but China has to be friends with us. I don't mean money or investment, but respect,"  Bukele said, without detailing his criticism.
The next day, U.S. National Security Advisor John Bolton met with Bukele in Washington. Bolton also wrote on his Twitter account that "We are eager to identify new opportunities for foreign investment, improve security, counter Chinese predatory practices, and increase support for Interim Venezuelan President Guaido."
As The Diplomat has been following, last August, El Salvador officially cut ties with Taipei and formally established diplomatic ties with Beijing. The move was seen as Beijing's revenge for Taiwanese President Tsai Ing-wen's high-profile stopover in the United States.
However, El Salvador's decision to switch its allegiance from Taipei to Beijing led to a rare backlash from the United States.
In an unusually strong statement, the White House said, "The El Salvadoran government's receptiveness to China's apparent interference in the domestic politics of a Western Hemisphere country is of grave concern to the United States, and will result in a reevaluation of our relationship with El Salvador."
As soon as Bukele won the election, he vowed to mend relationship with the United States, and at the same time, showed a tendency to cool down relations with China. Yet Bukele never condemned China in such a straightforward way until his U.S. trip.
It is likely that during his trip to Washington, Bukele gained more substantial support — both verbally and practically — from the United States.
Additionally, according to La Prensa Gráfica, Ronald Johnson, who has been nominated to be the next U.S. ambassador to El Salvador, recently said that he will seek to promote re-establishing the country's diplomatic ties with Taiwan.
Faced with Johnson's and Bukele's remarks, China took a different approach to each.
On March 14, the Chinese embassy in El Salvador issued a statement slamming the United States. The statement cautioned that the United States should "carefully handle the Taiwan-related issues in a prudent manner" and "stop using irresponsible words or deeds."
By contrast, what Chinese Foreign Ministry spokesperson Lu Kang said at the regular press briefing toward Bukele sounded much more friendly and even encouraging.
"We never intimidate or threaten other countries. The diplomatic relationship between China and El Salvador was established on the basis of the one-China principle," Lu said. "Such bilateral relationship, upright and aboveboard as it is, has no under-the-table deals or tunneling practices."
"I believe Mr. Bukele will independently make the right choice that serves the greater good of international relations and responds to the trend of the times, " Lu continued. "We look forward to working with Mr. Bukele and the government under his leadership to steer clear of external disturbances, step up practical cooperation in various areas, and advance our bilateral relations in a sound and stable manner. It will help Mr Bukele and his government to develop El Salvador's economy, improve its people's wellbeing and deliver benefits to them."