Korea Commemorates 100th Anniversary of March 1st Independence Protests
The historic remembrances have implications for modern-day relations between the two Koreas, and with Japan.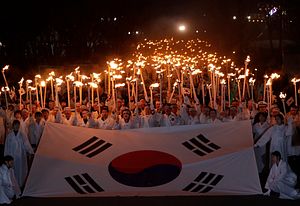 On Friday, the Koreas commemorate the 100th anniversary of the March 1st Movement, a mass demonstration of Korean resistance against Japanese colonial rule. The movement began on March 1, 1919 with a reading of Korea's "Proclamation of Independence"; within a year, up to 2 million Koreans participated in protests around the country. The movement was met with brutality by Japanese authorities, with thousands killed and as many as 46,000 people arrested for their involvement in the protests, which were eventually quashed the following spring.
Now, 100 years later, the Korean Peninsula has undergone sweeping changes that those protesters could never have foreseen – independence and separation, war, and recovery, with one side of the peninsula rising rapidly out of poverty to become one of the largest economies in the world. Both sides of the peninsula are using this anniversary to look back at that history and honor those who fought for freedom, but also looking forward at the 100 years to come.
In South Korea, the anniversary will be marked with massive gatherings and re-enactments of the 1919 demonstrations taking place both in Seoul and around the country. Other special moves are planned for the anniversary, including special pardons for more than 4,000 people, many of whom were convicted of crimes related to protests. Even Korean entertainment is getting into the spirit – popular show "Running Man" aired a special March 1-themed episode last week and saw a jump in its ratings afterward.
The government is also putting an emphasis on honoring the people who made the movement possible. President Moon Jae-in visited the graves of several key figures in the fight for Korean independence, and the government decided this week to honor freedom fighter Yu Gwan-sun with the country's highest medal of honor, the Republic of Korea Medal. Yu was only 16 when she attended the main March 1 gathering in Seoul, and continued to support protests by secretly distributing copies of the Proclamation of Independence and homemade Korean flags. She was arrested for these acts, and died in prison at the age of 17.
The theme of the celebrations is "Let's Open Another 100 Years Together," a clear reference to South Korean Moon's work to engage with the North. "We are no longer in the periphery of history. I hope we will open a new era with pride and confidence that the strength to decide and open the next 100 years rests in us," Moon said at a Cabinet meeting this week ahead of the big anniversary.
While Moon seems to be focused on inter-Korean ties, lurking in the background is the fraying relationship between South Korea and Japan. The two countries have experienced a downturn in relations lately, spurred in part by a recent Korean Supreme Court decision to grant compensation to Korean laborers who were forced to work for a Japanese company during World War II. The recent death of activist Kim Bok-dong – a victim of sexual slavery perpetrated by the Japanese military during the war who later went on to lead weekly protests in front of the Japanese embassy in Seoul – has also rekindled conversations about historical issues between the two countries. While of course relations with Japan will have to be brought up in some way during the March 1 events – it is explicitly a commemoration of a protest movement against Japanese rule, after all – it appears Moon is trying to focus as much as possible on inter-Korean cooperation and movement toward peace.
Recent events may throw a wrench in those plans, however. Last week, North Korea pulled out of plans to do some sort of joint celebration, citing scheduling issues. The two sides had agreed to commemorate the anniversary together during the September 2018 summit between Kim Jong Un and Moon, but specific details never emerged. One of the problems could be that the North was focused on Kim's meeting with U.S. President Donald Trump in Hanoi – but some speculate that Pyongyang was turned off by the fact that the celebrations in the South also honor the establishment of the Republic of Korea provisional government, which set up a government-in-exile to declare independence from Japanese rule. North Korea doesn't recognize this provisional government as legitimate, instead pointing to anti-Japanese activities by Kim Il Sung in Manchuria as the historical basis for the future Korean state.
After that blow, Moon's plans to highlight forward momentum toward peace suffered another setback. On February 28, Trump and Kim left Hanoi abruptly without signing any sort of agreement, shocking observers who expected at least some sort of concrete takeaway from the meeting. Many expected that one of the most likely things to come out of Hanoi would be an agreement to end the Korean War, which has been on pause for more than 60 years. Moon is still expected to lay out his plans for inter-Korean cooperation during the March 1 event, although he unfortunately won't be able to point to progress in Hanoi while he does so.
Jenna Gibson is a doctoral student in political science at the University of Chicago and a Korea blogger for The Diplomat. You can find her on Twitter at @jennargibson.