Russia's T-90M Main Battle Tank to Complete State Trials in 2019
Russia's upgraded T-90 main battle tank may finish state trials this year, according to media reports.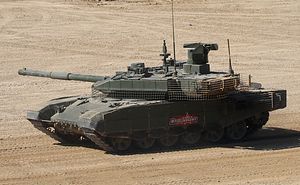 The Russian Ground Forces' new T-90M Proryv-3 (Breakthrough-3) main battle tank (MBT) is expected to finish state trials in 2019, according to a Russian Ministry of Defense (MoD) source cited by IHS Jane's. "Having confirmed the main specifications drafted in its technical terms of reference, the [T-90M] vehicle is now completing its state trials," the MoD source was quoted as saying on 24 February.
The T-90M MBT is an upgraded variant of the export version of the T-90MS MBT, developed and designed by Russia's largest tank maker, Uralvagonzavod. According to Russian media reports, the T-90M will be fitted with an upgraded turret, protected by Relikt explosive reactive armor, and feature new mission systems including the latest version of Russia's most advanced fire control system, Kalina.
The Kalina's automatic target tracker and fire control computer is capable of automatically tracking and continuously locking the MBT's main gun on a target based on input from various sensors until the gunner decides to engage the target. The Kalina system is also found on Russia's new T-14 Armata MBT. The T-90M's main weapon system remains the 125-millimeter 2A46M-5 smoothbore gun capable of firing standard ammunition but also the 9M119M anti-tank guided missile (ATGM).
According to IHS Jane's, the tank can also fire the 3VOF128 Tel'nik air-bursting projectile armed with a high-explosive fragmentation warhead. "The requirement for launching an air-bursting projectile was in response to Russian operational experience in Syria, and enables MBTs to defeat small dismounted weapon teams," IHS Jane's writes. "The round is designed to explode in front of the target, unleashing shrapnel in a cone pattern forward of the projectile."
As I reported previously, the Russian MoD plans to upgrade 350-400 T-90s to the new T-90M standard. There are also plans to upgrade the Russian Ground Forces's fleet of T-72B3 MBTs and T-80 MBTs.
Russia is also slated to begin state trials of its new third-generation T-14 Armata MBT this year.  The "Armata" universal chassis system serves as a platform for over a dozen different tracked armored vehicles, including a self-propelled artillery howitzer and an armored military engineering vehicle.  As I explained elsewhere:
The Russian Ground Forces are currently operating around 16-20 T-14s prototypes for testing. The MoD signed a contract with Russia's main tank manufacturer Uralvagonzavod (UVZ) for the production of 132 T-14 Armata MBTs and T-15 heavy infantry fighting vehicles (IFV) in February 2018. [The Russian Ground Forces] are slated to receive a total of 100 T-14 MBTs over the next three years. 
The MoD's upgrade program of the T-90 MBT is a direct consequence of the Russian government's decision not to mass-produce the T-14 for the time being.