The Indian Heart: The Polish Singer Who Mastered Hindustani Music
Michał Rudaś is yet another foreign artist drawn to classical Indian music.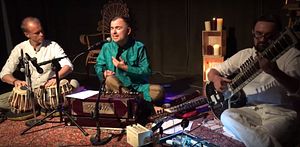 Five contestants reached the semi-finals of the Indian music talent show, Dil Hai Hindustani. One of them was not Indian, however. Michał Rudaś, an artist from Poland, stood his ground throughout the contest, singing Bollywood hits in Hindi in a battle that proved to be far from uneven. While he did not make it out of the semi-finals, the show was neither the end nor the beginning of his association with Indian music, but rather yet one more stage of his already long journey.
Dil Hai Hindustani means "The Heart is Indian" and is a reference to a famous old song, Mera Joota Hai Japani. "My shoes are Japanese" – say the opening lyrics of that 1950s song – "I am wearing English trousers and a red Russian hat, but the heart is Indian." And so it is with Rudaś. Despite his nationality, look and dress, it's as if his heart was Indian, or, to be more fair, half-Polish and half-Indian. And not just the heart, but the voice as well. The singer has worked hard on Indian classical singing techniques, pronunciation and voice modulation, coming close to not sounding foreign at all. Incidentally, Hindustani is not only an adjective that nowadays simply means "Indian" (as in Dil Hai Hindustani), but is also a name of a particular genre of classical Indian music – and this genre has been Rudaś' personal choice. His heart, therefore, is "Hindustani" in more than way.
"I was about 15 years old," he told me, "when I started looking for my identity and then somehow I came across Indian fusion music and then original, classical Indian music." For the last 14 years Rudaś has also had an Indian master: Anup Misra, from Sanpurnanda Sanskrit University in Varanasi. If you chance upon some of Rudaś' performances, such as that of the song Meri Jaan, and you will not look at the description below, you might as well assume  it's an Indian singer you are listening to.
India's domestic music scene is dominated by its own artists. There are, however, interesting and not-so-few exceptions. The London-born singer Tanya Wells mastered the art of performing gazals in a thrilling way and has become an established part of the music scene as far as that genre is concerned (you can try a sample of her talent here). Japan has a school of Hindustani music which includes established names. It includes artists playing a demanding, multi-string instrument called santoor, such as Setsuo Miyashita and Mari Komuro. Then there is also the singer Gina Sala, the tabla drummers Daniel Paul and Ty Burhoe, the Switzerland-based sarod player Ken Zuckerman, Steve Gorn (mostly known for playing the bansuri – a kind of bamboo flute, among other instruments), Gianni Ricchizzi (an Italian musician that mastered various Indian string instruments), and many others.
Interestingly, as these examples show, some of the better-known musicians that got attracted to Indian music took to more classical genres, rather than entering the crowded and competitive  popular arena of film music (in India a large part of what we would term "pop" comes from movie soundtracks and thrives in symbiosis with the cinema industry). Rudaś' two favorite genres are the "classical Hindustani raga and qawwali music," he told me. "But [I} also love gazals," he adds. His favourite Indian singers? Pandit Jasraj, Bhimsen Joshi, Nusrat Fateh Ali Khan, Shankar Mahadevan. "And of course my guru ji [respected teacher] Anup Misra," he completes the list.
Each foreigner brings his perspective, his own culture and contacts to a genre. Non-Indian musicians take both to replicating the traditional tunes in orthodox, constantly perfected ways, but also often approach the genre in unorthodox ways, mixing musical species, experimenting with instruments and establishing international cooperation. They can also act as two-way ambassadors – usually to promote Indian culture in their countries, but potentially also to promote the culture of their countries, or at least some knowledge of them, in India.
And so it is with Michał Rudaś. In Poland, he is also known for taking part in a television music talent show and singing Polish-language pop music. But he has also sung songs in Polish blended with Indian music (as on his Shuruvath album), as well as traditional Hindustani (as in his Michał Rudaś & Healing Incantation project).
Apart from his stint in Dil Hai Hindustani in the fall of 2018, Rudaś has recently performed in Kolkata and in Delhi, the latter event being his first concert in India. But his new fans should not count on him going the music talent show way toward singing recent pop hits from the movies. "Some people ask me if I want to make a career as a singer in Bollywood. This is not my goal as I feel my path is to focus on making my own music and some artistic, independent collaborations." the artist told me.
And India? Should its government do something more about the fact that its classical music is a part of its soft power? Perhaps a little, but not necessarily too much. India – as a country and a culture – has already done enough by producing music that is attractive and proven so even to some foreigners. More encouragement and culture promotion is always welcome, of course, as otherwise less popular classical genres get sidelined by highly commercialized pop music. The latter may be more hard-hitting and broad-reaching, but, as above examples show, it the association with the former that created more long-lasting bonds and leaves deeper impressions. This encouragement is also partially happening, as such artists as Setsuo Miyashita or Tanya Wells were sometimes to festivals of Indian music and poetry, both in the country and elsewhere. The Indian government also has an institution (with its global network) that is – and can be more – utilized for this goal: the Indian Council for Cultural Relations, which can arrange events of foreign, Indian music playing artists in their respective countries as well as in India.
Personally, however, I would conclude that New Delhi could continue engaging in this process supportively, but subtly. A too deep involvement of the government, even if bringing the much-needed support, always risks sliding into interference (such as picking which genres or topics should be supported more than others). Art is always a personal choice, and this how it works best.