China, Russia Kick Off Bilateral Naval Exercise 'Joint Sea'
The Chinese People's Liberation Army Navy and Russian Navy began a six-day naval drill in Qingdao, China on April 29.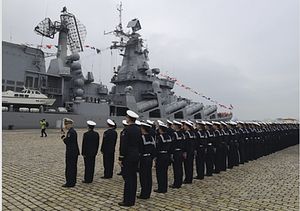 China's People's Liberation Army Navy (PLAN) and the Russian Navy began a six-day joint naval exercise, codenamed Joint Sea 2019, in the port city of Qingdao on China's Yellow Sea coast on April 29. Joint Sea 2019 is the latest iteration of an annual naval exercise between the PLAN and Russian Navy that has been taking place since 2012.
This year's drill is reportedly split into two parts, with the shore part of the exercise conducted from April 29 to 30, while the sea component is set to take place from May 1 to 4 in the East China Sea and Yellow Sea.
On the PLAN side, the drill involves a submarine, two-guided missile destroyers, three-guided missile frigates, and a submarine rescue ship. Russia has dispatched elements of its Pacific Fleet to the exercise including a Steregushchiy-class frigate, a Slava-class guided missile cruiser, a Ropucha-class large landing ship, an Igor Belousov-class maritime search-and-rescue support vessel, and a Kilo-class diesel-electric attack submarine.
"Today, in accordance with the voyage plan, a Pacific Fleet detachment led by the flagship cruiser Varyag has arrived in the port of Qingdao, the People's Republic of China, to participate in the Joint Sea 2019 Russian-Chinese bilateral naval exercise," the Russian Ministry of Defense (MoD) said in an April 29 statement.
"Early in the morning, a Russian detachment made up of the cruiser Varyag, large ASW [anti-submarine warfare] ships Admiral Vinogradov and Admiral Tributs, corvette Sovershenny, large amphibious ship Oslyabya, rescue boat Igor Belousov and mid-size sea tanker Irkut met with the [Type 052 Luhu-class] destroyer Harbin (PLA Navy) and headed to Qingdao."
Japan's MoD spotted the Russian fleet cruising to the exercise 150 kilometers northeast of the island of Tsushima on April 24.
In addition, both sides dispatched seven fixed wing aircraft, four helicopters, and at least 80 marines to Qingdao this week.
According to the Russian MoD, the two sides will carry out joint maneuvers, live-fire exercises, search and rescue operations, as well as communication exercises. Joint Sea 2019 is also set to include anti-submarine warfare and anti-air warfare components.
Chinese Ministry of National Defense spokesman Ren Guoqiang, in a briefing earlier this month, said that the exercise will emphasize "joint maritime defensive operations" focused on "strengthening the two navies' capability to commonly address maritime security threats."
Past iterations of the Sino-Russian naval drill have been held at far-flung locations around the globe including the South China Sea, the East China Sea, the Sea of Japan, the Mediterranean Sea, and the Baltic Sea.